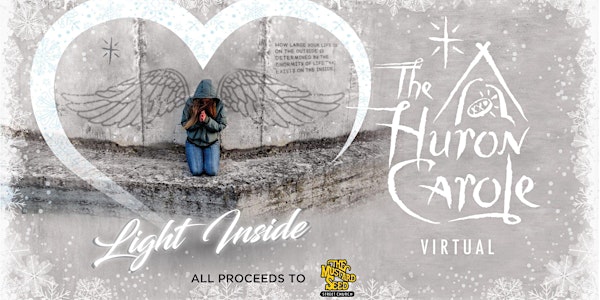 The Huron Carole Virtual-Light Inside
The Huron Carole Virtual The Huron Carole is a seasonal music institution spanning more than 3 decades, touring from coast to co
About this event
The Huron Carole, "Light Inside" Virtual Event
Huron Carole is coming to Victoria, virtually! Join us from the comfort of your own home for a night of contemporary and signature Christmas music, including stories creatively crafted by famed actor and musician Tom Jackson. It will be a great way to start this Holiday season!
This year, Tom will be accompanied by 5 special guest musicians: Tom McKillip, Darryl Havers, John MacArthur Ellis, Kirby Barber, and Chris Nordquist.
The show will be held on December 8th virtually via Zoom. Show tickets ($15) include exclusive access to a wonderful 75 minute performance full of hope, joy, and Christmas spirit. You also have the option of purchasing a VIP ticket ($30), which will include the Show and 20-minute Meet-and-Greet Q&A session with Tom Jackson prior to the show.
We also offer Corporate Sponsorship Packages (6 tickets or more) providing companies and their employees a wonderful gift to kickoff this Holiday season! Corporate Packages and Donors will be acknowledged at the show and through our social media platforms. Pledge your support by November 30 to be featured in Tom Jackson's pre-show acknowledgement.
If you are unable to make it to the event but still want to support the Mustard Seed and our community work specially during this Holiday season, please click donate at the ticket section.
"Under the cloud of these challenging times, I am of the opinion that food banks and those less fortunate in our world are going to be the ones most impacted by the current economic fall-out from Covid 19. This Christmas season is going to be different from any other. It's going to require us, as individuals and as a society, to look inside ourselves for a light of optimism. A silver lining. We must treasure that light and hang on to that silver lining with all our might." - Tom Jackson
Tom Jackson, founder of The Huron Carole Benefit Concert Series, is a musician, beloved TV personality (North of 60, Star Trek, Law and Order), and a long-time champion for the marginalized. Having experienced hard times in life, he discovered music was a way to help others.
Hosted by The Mustard Seed Street Church
VIP Meet & Greet with Tom Jackson: 6:15 PM (waiting room opens 6:00 pm)
Performance: 7:00pm – 75 minute (waiting room opens 6:45 pm)
Tickets: $15.00-$30.00
Corporate Sponsorship (6 tickets per sponsorship): $300