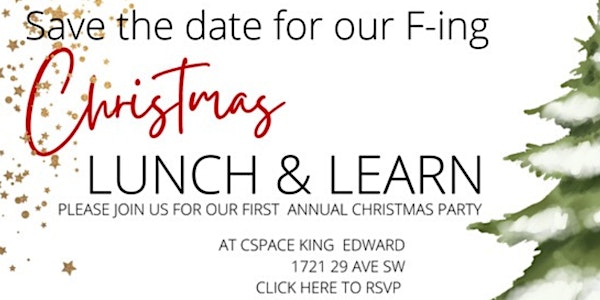 The 'I Need To F***ing Talk To You' Christmas Special Lunch & Learn
How effective are you when it comes to those 'difficult'workplace conversations? Especially those that may occur after the Christmas Party.
When and where
Location
cSPACE Marda Loop 1721 29 Avenue Southwest #Suite #125 Calgary, AB T2T 6T7 Canada
About this event
Facing challenging workplace relationships with team members, co-workers or customers?
​These relationships can be a particular challenge after the annual Christmas Party, people's behaviour or comments may have been 'offside' and now the day after you are faced with having that 'difficult' festive conversation.
Many managers avoid having these conversations at work and as a result:
individual and team performance levels drop
customers and clients become dissatisfied
team morale plummets
confidence in management is eroded
​What if you had a set of proven tools and the confidence to apply these techniques in the workplace, that would help you boost individual and team performance, improve employee engagement and lower your costs.
Experience a Lunch n Learn based on the 5 Star Amazon book 'I Need To F***ing Talk To You - The Art of Navigating Difficult Conversations. This Lunch n Learn will increase your confidence in conducting difficult workplace conversations by offering the only workshop of its kind using our nationally renowned Forum Theatre for Business approach utilizing 'live' actors. During this one of a kind workshop we will not only provide you with an easy to use process, but also an opportunity to practice in 'real time' with our actor.
So bring your beverage of choice and your lunch/snacks and join us to Act your way into a new way of thinking!
"Bluegem Learning & Development and Corporate Culture Shift have presented two very effective and interactive workshops with our organization. Their comedic and engaging presentation style in the 'Managing the Unmanageable' workshop has left a lasting impression on our staff. I highly recommend this workshop if you are looking for a valuable, cost effective customer service training option."
- Jeff Gerestein, City of Brooks
"It's Russell's style. Very personable, very engaging, is able to deliver material in such a way that folks just don't feel threatened. You sit in a room listening to Russell and the light bulb goes on. That makes sense. Right. Why didn't I think of that before?"
- Monique Auffrey, Discovery House
"Bluegem's engaging and informative session at our Foreman's workshop proved to be a huge success. The role playing of scenarios presented our leadership group with the opportunity to both engage in and/or observe as close to real life situations as possible when managing employee performance. I strongly recommend this style of leadership training for any organization looking to provide their leadership group with skills, tools and information when it comes to managing employee performance."
- Dean Jetten, Volker Stevin