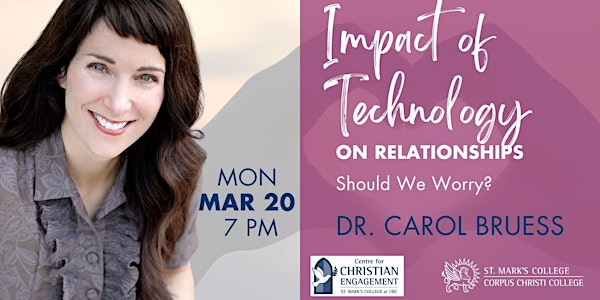 The Impact of Technology on Relationships: Should We Worry? Carol Bruess
Our daily tech choices are resulting in disintegrating conversations, distracted brains, and reduced human empathy. How should we respond?
By St. Mark's College at UBC
Date and time
Mon, Mar 20, 2023 7:00 PM - 8:30 PM PDT
Location
St. Mark's College at UBC 5935 Iona Drive Vancouver, BC V6T 1J7 Canada
About this event
Social scientists across multiple disciplines now have mountains of evidence about the ways digital and social media are affecting and changing nearly every aspect of human interaction: in families, friendships, marriages, between patients and clients, with neighbors, and even between strangers.
While the data are quite clear about the fact that almost everyone over the age of ten is digitally saturated, questions about the precise relational, health, and mental health consequences of our collective digital love-affair are just beginning to clearly emerge. What the data suggest should be cause for concern and become topics of conversation in every context of our lives.
Why? Because the inconvenient truth is this: Our daily tech choices are resulting in disintegrating conversations, distracted brains, reduced human empathy, and multiple negative mental and physical health outcomes.
In this dynamic presentation, Dr. Carol Bruess will address the current state of our relationship to technology and provide practical approaches to help each of us re-evaluate our relationships both to each other and to the devices we adore.
Carol J. Bruess
Carol J. Bruess (rhymes with "peace"), PhD, is Professor Emeritus of Communication and formerly the director of Family Studies at the University of St. Thomas, Minnesota. For three decades she has been a professor, researcher, author, and relationship social scientist passionate about how humans create healthy relationships through micro-moments of interaction and ritual—particularly interested in the impact of the digital age on in-depth listening, robust conversations, and human empathy.
The author of five books and dozens of academic journal articles, Carol is also a dynamic speaker with a popular TEDx Talk ("Are All Relationships Messy?"). She recently published a ground-breaking study exploring the impact of the COVID-19 pandemic on relationships, revealing the ways humans manifest strength during times of challenge. You can learn more about Carol over at www.carolbruess.com, including her TED.com articles; a CSB news series she co-created ("Relationship Reboot"); her sewing design shenanigans; and efforts to train her Bernedoodle George as a therapy dog serving college students. She and her husband of 31 years (Brian Bruess, PhD, President of College of Saint Benedict and Saint John's University, Minnesota) are currently living on the campus of St. Bens in St. Joseph, MN. They have two young adult children: one in Los Angeles and another in New York. In her free time she enjoys doing headstands, sewing with vintage fabrics, and learning teen slang (usually not at the same time).
This lecture will be offered both in-person or live on Zoom
About the organizer
About the Community of St. Mark's at the University of British Columbia

The community of St. Mark's (St. Mark's/Corpus Christi College and St. Mark's Parish) is steeped in a rich legacy of faith, the result of more than ninety years of continuous Catholic presence at the University of British Columbia. This presence arises from the vision of our founders, the Basilian Fathers, who for many years taught in the university's academic divisions, helped shape its athletic tradition and served its Catholic chaplaincy. Located on the campus of Saint Mark's College, St. Mark's Parish is now served by the Jesuit Fathers, who labour together with the Office of Campus Life and Ministry to build up the sacramental and intellectual life of our community. We strive to support the development of students as whole persons, prepared to make their contributions to the world. Our public outreach efforts strengthen our role as the Catholic centre at the University of British Columbia, and our commitment to serving as a catalyst for thoughtful consideration of faith leading to understanding at both the university and in the broader community.