Event Information
Location
Online Webinar
Vancouver, BC
Canada
Description
Welcome to the NCCEH Healthy Built Environment in Canada Forum Webinar Series! Webinar instructions will be included in the confirmation email. A recording of this webinar will be posted on the Healthy Built Environment discussion forum.
The Indigenous Healthy Built and Social Environment: A Framework to Address Health Disparities of Indigenous Peoples
For over a century, through the advancement and investment into the colonial built environment, Canada has progressed and achieved status as one of the greatest developed countries in the world. Meanwhile, the development of Indigenous communities have been neglected with health and living conditions comparable to developing countries. Communities built according to influence of settlers, lack insight into culture, spirit, and traditional ways of living that are pertinent to Indigenous people. While many agree what constitutes the core areas of a built environment, studies have focused on non-Indigenous communities. There is a gap in the literature from the perspectives of Indigenous peoples whether the current Healthy Built Environment Framework is structurally and culturally applicable for Indigenous communities and how disparities in the built environment affect communities.
This study identified relevant core pillars of the built environment for community functioning and health for an Indigenous community in Canada. Although these pillars closely emulate the Healthy Built Environment Framework promoted by public health in Canada, adaptations were required to address the specific needs of Indigenous people. This involved analysing and modifying the language used to describe the core pillars and emphasising the importance of the social environment as the foundational underpinning of the built environment. These adaptations and the development of the Indigenous Healthy Built and Social Environment Framework makes space for Indigenous world views, the historical context of colonization and unique community priorities of Indigenous people.
Speaker: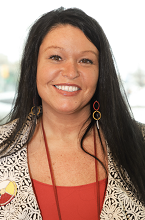 Pepper Pritty, Program Coordinator & PhD Student, University of Manitoba; Director, Green Action Centre
Pepper Pritty is a Registered Nurse and practices in the areas of Indigenous and environmental health. With a background in Agriculture and a master's degree in Natural Resources Management, she is currently a doctoral student in the Faculty of Environment at the University of Manitoba studying Indigenous built and social environments. She is passionate about chronic disease prevention and promoting land-based teachings as a source for health and healing.
Webinar format
The presentation portion will be approximately 30 minutes, followed by 45 minutes of Q&A and discussion questions. Participants will be able to chat via the chat box. Please review the discussion questions and video below prior to the webinar. More information about the Healthy Built Environment in Canada Online Discussion Forum can be found here http://www.ncceh.ca/content/healthy-built-environment-online-discussion-forum.
Discussion Questions:
Do you have any experience working with Indigenous communities to create healthier built and social environments from their perspectives? Do your programs have jurisdictional boundaries?
Is there any capacity in your programs or jurisdictions to conduct healthy built environment gap assessments? If yes, how is it conducted?
How do you prioritize your HBE work?
What tools would be helpful for you to become more involved in HBE or to incorporate more aspects of HBE in your work?
As an outcome of this study, a short video was created to highlight the impact of a colonial built and social environment from the perspectives of community members in O-Pipon-Na-Piwin Cree Nation (OPCN). Please review this video prior to the webinar: https://www.youtube.com/watch?v=6Sv4X1WkilA.
Date and Time
Location
Online Webinar
Vancouver, BC
Canada