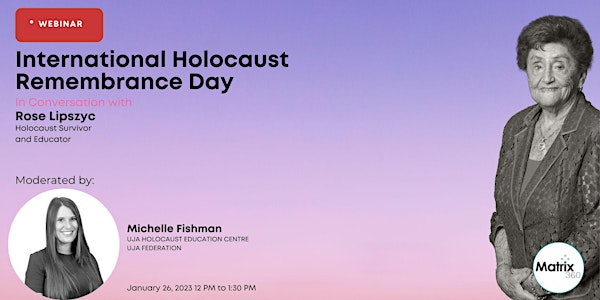 The International Holocaust Remembrance Day
An intimate conversation with Rose Lipszyc, a Holocaust survivor & educator who will share her insights on how we must embrace our humanity
Date and time
Thu, Jan 26, 2023 9:00 AM - 10:30 AM PST
About this event
To mark International Holocaust Remembrance Day, Matrix360 is honoured to present a webinar conversation with Rose Lipszyc moderated by Michelle Fishman of the UJA Holocaust Education Centre.
Matrix360 strongly believes it is integral to commemorate the six million European Jews, and members from targeted communities who were brutally and systematically tortured and murdered. We must continue to share the stories and never forget the atrocities perpetrated by the Nazis. Victims should never be forgotten. Every organization around the world must honour all victims of the Holocaust, condemn Holocaust denial and distortion, and develop education programs to help prevent genocides from happening ever again.
Antisemitism led to the Holocaust but, sadly, it did not end with the liberation of the Nazi concentration camps. With the spread of mis- and disinformation, the education of every generation about the Holocaust is the best solution. It is the best tool to fight hate, ignorance, discrimination and bigotry and to ensure that the message of "Never Again" reverberates throughout future generations.
With the rise in Antisemitism, Matrix360 remains more robust than ever in our commitment to never forget and combat hate. We have a duty to create opportunities to learn and grow. We are committed to creating pathways to education as we build better workplaces and communities.
All proceeds raised will be donated to the UJA Holocaust Education Centre in Toronto.