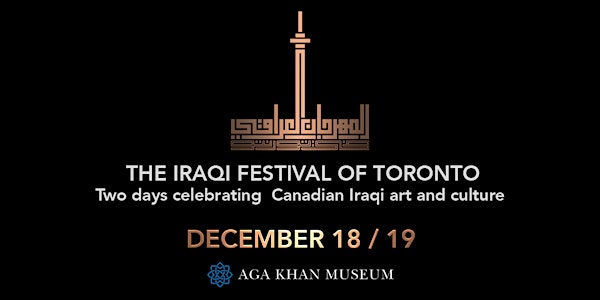 The Iraqi Festival of Toronto - General admission except concert ( day 1)
Day 1 - Saturday Dec 18, 2021
About this event
Day 1 - Saturday Dec 18, 2021
4:30 - 7:00 pm: Creating Cultural Integration (fine arts exhibit)
4:30 - 5:00 Special reception for the Art exhibition opening (VIP ROOM)
5:00 - 6:00 pm: Opening Concert by Moneka Arabic Jazz (VIP ROOM)
6:30 - 7:00 pm: Book Signing (VIP ROOM)
Artworks by several prominent Iraqi Canadian Artists - Don't miss this opportunity to see the creative work of a group of Internationally renowned contemporary and modern Iraqi-Canadian artists whose works have been exhibited in a number of international museums and galleries . The artists fled their homeland because of wars and censoring and, despite the devastating background they left behind, are now using their artistic talents to show us: cultural integration of east and west, memories of violence as they are translated into peaceful dialogues, as well as highlighting social problems using contemporary techniques and creative ideas.
Organizer of The Iraqi Festival of Toronto - General admission except concert ( day 1)
We are a social not for profit society, solicitous about the affairs of the Iraqi community in Canada.
In order to consolidate the bonds of mutual cooperation, assistance and fraternity among members of the Iraqi community residing in Canada; and to secure for them proper residence and working conditions; and to foster the highest standards of education which will help develop their scientific knowledge, technical skills, art and sports and other abilities; and to maintain continuity of our ancient Iraqi history, traditions and culture; and on the 8th of September 1991, The Iraqi Canadian Society of Ontario has been established in accordance with the by-laws of this Constitution.
Creating a convenient atmosphere of the friendly relationship among the Iraqis residing in Canada.
Fostering education, scientific knowledge, technical skills, art, and sports abilities.
Strengthening ties between the Iraqi community and the general Canadian society.
Respecting democracy and human rights.
Introducing Iraqi history and culture to Canadian society.