The Island Drive-In Festival - at Willis Memorial Racetrack in O'Leary
Our Town. The Heart of the Island - This film celebrates the songs and stories that bring the Island to life.
About this Event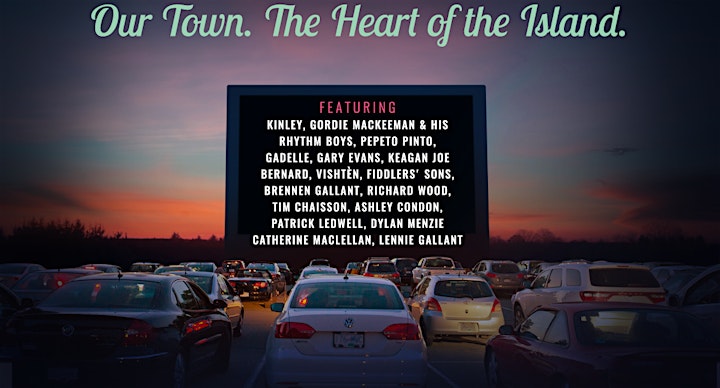 Gates open at 5:30PM and the show " Our Town. The Heart of the Island " will start after dusk at approximately 7:30 PM . We ask ticket holders to arrive no later than 7:00 PM in order for staff to be able to park all the vehicles. Failure to arrive by 7:00 PM will result in your ticket being null/void and it will be released to vehicles waiting in our stand-by line.
Please note this event is weather dependent. Unfavorable weather may result in rescheduling or cancellation. The Event will contact ticket holders via email if this situation occurs.
_________________________________________________________________________________________
EVENT DETAILS & POLICIES
All ticket holders are required to follow safety procedures and policy as set out by the event and the Chief Public Health Office. Failure to comply with the policies will be deemed grounds for removal from the facility.
All guests must remain in vehicles at parking spot during the show unless visiting restroom facilities. A combination of permanent and temporary washroom facilities may be available. Physical distancing and adherence to guidelines set by the Chief Public Health Office will be required of all guests.
All vehicles will be parked by a parking attendant to ensure social distancing is in place. Please be patient with this process as we adhere to social distance requirements.
This is an unlicensed event. No alcoholic beverages will be sold. Consumption on alcohol on the site will be grounds for immediate removal.
This is a family friendly event - smoking of any kind is prohibited onsite.
No re-entry will be permitted
This is an outdoor event subject to postponement, delay or cancellation due to inclement weather
All ticket holders and their vehicles are subject to security search upon entry
All attendees subject to photography, videography and/or live streaming including aerial drone
ITEMS NOT PERMITTED
There are certain items that are NOT permitted and cannot be brought into the Island Drive-In Festival venues. Currently, items NOT permitted include, but are not limited to:
-Alcohol- Drinking of any kind while onsite at the festival is strictly prohibited.
-Smoking (yes, of any kind ... we know it's legal now, but not today) is prohibited.
-Fireworks, explosives or weapons of any kind
-Contraband
For more details and frequently asked questions please visit : http://driveinpei.com/?fbclid=IwAR26NgKeUvD8w8Po4KxZHfHjBAcU9DIFclfs9ReP-WJyqa4abn9CVM6i8x0