Description
*THIS CONCERT HAS BEEN RESCHEDULE UNTIL FURTHER NOTICE. REFUNDS WILL BE ISSUED SOON*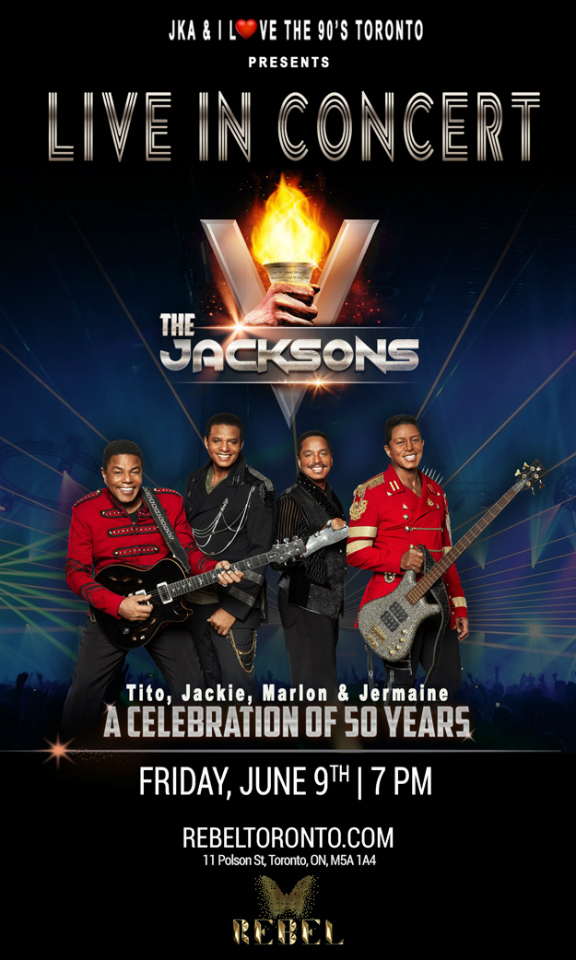 JKA & I ❤ THE 90'S TORONTO PRESENTS
THE JACKSON'S LIVE IN CONCERT
Friday, June 9th, 2017
Where : REBEL TORONTO 11 Polson St. All Ages
Doors: 7pm
Tickets: $75
The last time the Jackson's performed on Toronto soil was 33 years ago!! If you missed it or weren't born yet, you don't want to miss this legendary musical experience!!
The Jacksons, quite possibly the most recognizable family in music history, will celebrate their 50th anniversary at REBEL on Friday June 9th.
The brothers, from Gary, Indiana, became one of the biggest and most popular pop groups in the history of music. Their combination of extraordinary musical talent and choreography has earned the family the status of pop royalty in the music world and was later responsible for providing the launching pad for Michael Jackson's legendary solo career!
To Order Tickets, click on the link below:
https://the-jacksons-live-in-concert.eventbrite.ca
Tickets are non-refundable.