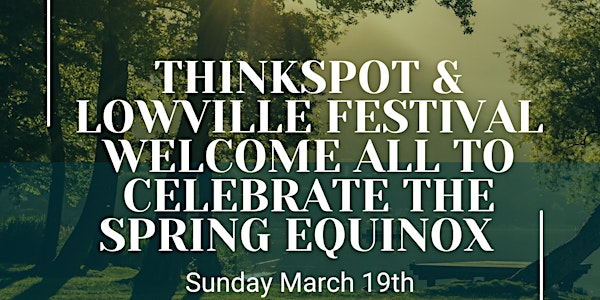 The Journey Continues: ThinkSpot and Lowville Festival Spring Equinox
ThinkSpot & Lowville Festival present "To Turn a New Leaf" - a day where the balance of light and darkness are celebrated
By THiNKSPOT and Lowville Festival
Date and time
Sun, Mar 19, 2023 9:00 AM - 8:30 PM EDT
Location
6210 Lowville Park Rd 6210 Lowville Park Road Burlington, ON L7P 0A8 Canada
About this event
Come join us at ThinkSpot in Lowville on Sunday March 19th - either for one event or spend the whole day in the beautiful oasis of Walt Rickli Sculpture Garden. While Lowville currently looks like a frozen tundra, we will be celebrating the Spring Equinox as a time of finding balance in life through the balance of light in the seasonal change.
There are three scheduled activities and the rest of the time will be open to all who wish to drop by for hot chocolate and s'mores around several warm fire spots. There will be crafts to create on our unique wooden table "You're a Piece of Work" (we mean that in a good way); along with receiving and sharing words of encouragement; and writing what you would like to 'release' and will be burned in the evening fire.
9am will be a guided 'walk in WONDER' through Lowville Park with Khy Hua.
1pm will be a guided hike though the River & Ruin section of the Bruce Trail in Lowville with Lowvillians Karen Moorse and Debra Pickfield (dependent on whether trail is complete mud or not)
6:30 pm to 8:00 pm will be Charissa and Katie, The Sandbox Sisters from Guelph, who will share their gifts in sound through musical instruments and voice (feel free to bring your own drums, shakers, rattles). They will explore 'Pruning and Renewal' as setting the stage for celebrating the upcoming season through our internal experience; through the nature/earth grounding perspective; and the energy from the planet transitions as we experience equal day and nights.
Katie and Charissa invite you to reflect on what you see as a barrier in your current life, as well they invite you to bring anything symbolic you would like to burn in the fire (please - no plastics or combustible chemicals or materials (ie. no batteries, or fluids etc. )
ThinkSpot and Lowville Festival are hosting this event and tickets are complimentary. In return we ask for you to bring donations for Wellington Square United Church who provide food and necessities for Burlington individuals and families through their Community Hub and Lunch. $25 per person is suggested and Wellington Square would appreciate any of the items below. Cash donations are also welcome and 100% of all items and cash will be given directly to Wellington Square Church:
For comfort kits:
Reusable water bottles.
Dish soap
Paper towel.
Kleenex
Shampoo.
Body wash
Other needs:
Salad dressings
Chocolate chips for baking
Juice boxes
Snacks for children's lunch bags
We hope you can join us on Sunday March 19th. ThinkSpot and Lowville Festival will be hosting equinox and solstice events through-out 2023 and 2024 and would value your insights and suggestions as to what you would like to experience here in Lowville. If you have any questions, please reach out to debra@thinkspot.ca.
From the frozen tundra in Lowville... the journey continues!