Description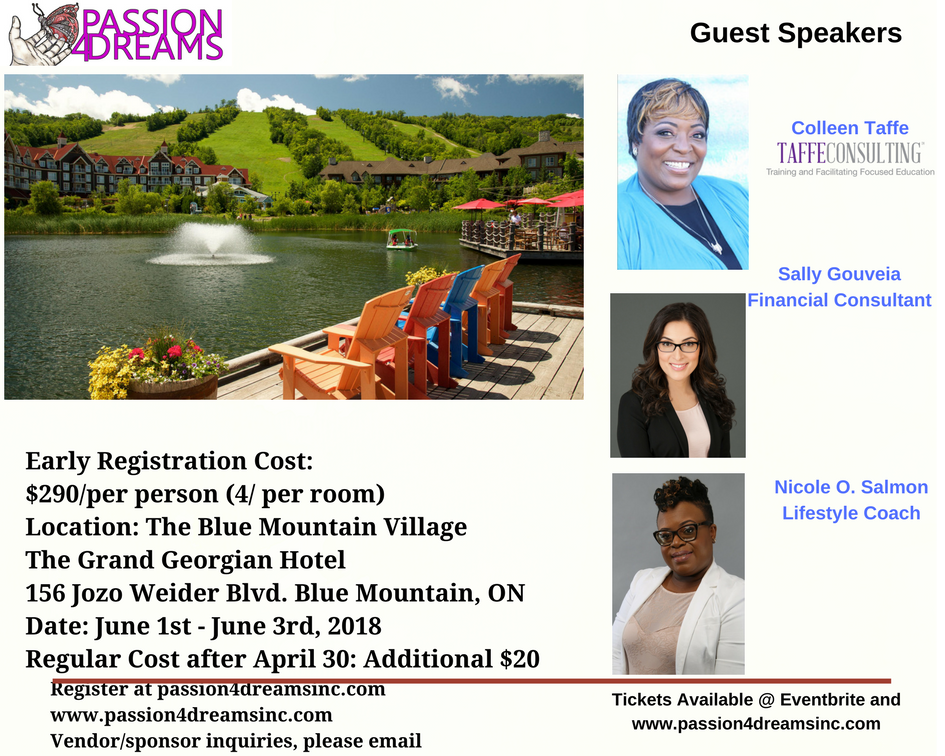 Looking for a weekend getaway with your girlfriends! Join us at Blue Mountain Village. A weekend you don't want to miss. Relax at the beautiful Blue Mountain Resort. Includes Networking, fun, activities and workshops.
Guest Speakers
Colleen Taffe
Colleen Taffe is highly recommended and branded across Ontario for her contagious passion and energetic teaching style. With over a decade of experience in Mental Health and Addictions, along with formal education involving ethnic/cultural studies, Colleen prides herself on emphasizing the importance of diversity as one of the vital components necessary for a 'responsible approach' to knowledge acquisition for professional learners.
Colleen's outlook stems from extensive work with a variety of groups including persons living with or caregivers of persons with: mental illness; concurrent disorders and addictions; physical disabilities; women's groups; at risk youth; and the immigrant and newcomer population. Colleen's private business T.A.F.F.E also offers specialized professional training and education to organizations. Over 10, 000 participants have successfully acquired ASIST (Applied Suicide Intervention Skills Training) training.
T.A.F.F.E training and facilitating sessions also provide a wide range of subject matters including Mental Health & Addictions, Trauma, Cultural Sensitivity and Non-Violent Crisis Intervention as well as customized lesson plans and workshops. Colleen Taffe recognizes that a high level of sensitivity and expertise is required to address complex and challenging subject matters. Colleen's track record demonstrates that her unique interactive approach consistently results in participants leaving her classroom educated and empowered!
Contact Colleen T.A.F.F.E. today for your next training venture! For booking information contact: Colleen Taffe at 416-558-3860 or by email colleen@colleentaffe.com
Sally Gouveia
Thanks for letting me introduce myself, I am Sally Gouveia. People that are just meeting me for the first time ask me how I can help. They are typically individuals who do quite well for themselves, but we can all use a helping hand. I look forward to taking the guess work out of your financial situation. Every one of my clients possess a financial plan that guides them through the myriad of decisions that gets us to our goals.
Your plan will guide you to your destination, such as, holding the keys to your first home, looking into the eyes of your precious newborn baby, waking up without an alarm clock in retirement, ensuring the cottage is around for generations of family memories, or looking after your loved ones when you change your address to heaven.
My clients are typically individuals or families looking to maximize their income by having it work for them. Together we creatively come up with strategies that work best for you. The key ingredient; the implementation of a plan made specifically for you. This will enable you to reach your financial goals during each stage of your journey and allow you to focus more on creating memories. Celebrating achievements is too much fun to pass up! It all started at a young age for me. My father, who is a farmer taught me the importance of money and hard work. When I had received 'gift money' at seven, we walked to the bank and opened up my first savings account. I later invested in RRSP's which I used towards a down payment in my mid-twenties on my first home. The last two decades I spent working with finances, banks and credit. This assisted in paying for my York University education but also peaked my interest into this vast landscape of managing money, maximizing this ever-changing legislation, interest rates and the list goes on.
I want to get the word out. We all deserve to have our money work for us and celebrate with our loved ones when we reach our goals, so I plan to pay it forward. I look forward to getting to know you and your family. Creating these precious memories that we get to relive in our hearts is truly what this life is all about. Sally.gouveia@investorsgroup.com or 416-845-7465
Nicole Salmon
I've worked with some inspiring and powerful women over the years. You know the type. Fierce, has it all together and going place? Well at least to the public she is. But in her private life she is also unraveling and not clear about her next move. Why do they end up at my door? Because birds of a feather flock together.
The only difference between our journeys is, through a series of life events, God divinely led me back to my core. The result; the launching of my Core Edge Philosophy and a personal compass for leading and living a consistent life of authenticity and divine authority.
Before stepping into full-time-purpose and launching my own coaching firm, I worked in the not-for-profit sector for over 15 years, specifically with organizations serving communities experiencing marginality.
As a certified life skills coach and a personality dimensions level III trainer, my reflective coaching techniques, coupled with my one-to-one and group facilitation sessions, has led scores of professionals and organizations alike to a place of lasting success and high-level efficiency. Due to my unique combination of expertise, I am blessed to have emerged as a sought-after keynote speaker and panelist in many corporate circles.
I am a proud mother of five (that wasn't a typo lol). Four ogers and one princess. A beautiful, loud, and never dull, blended family of seven.
For Bookings and Inquires: info@nicoleosalmon.com
Weekend at Blue Mountain includes:
Saturday Breakfast and lunch provided

Cost covers two nights at Grand Georgian Resort in the Blue Mountain Village

3 Workshops

Networking opportunities

Workout with professional Instructor

Ladies in business or entrepreneurs are welcome to purchase a vending spot to promote and sell their products and services

Saturday Night Social Mixer: Wine and Cheese

Other activities at Blue Mountain: Spa, hiking, biking, etc. (activities are extra cost, those interested in group activities, please let us know so we can get a group cost on activities)

Payment plan available, please email to get more information about the payment plan

Shared rooming, you are welcome to invite friends
FAQs
What are my transportation/parking options for getting to and from the event?
There are shuttle services from GTA and Pearson International Airport to Blue Mountain. For those who do not want to drive, if a shuttle service will be provided through Passion 4 Dreams, there will be an additional cost. Upon arriving, if you are driving, there is free parking. If you choose to park underground, there will be an additional cost.

What is the cost?

$290 Studio Room with 1 Queen Bed and 1 Sofa Bed /Kitchenette
4 ladies per room = $290/ per lady (Cost after April 30th, $310)
3 ladies per room = $386/per lady (Cost after April 30th, $406)
2 ladies per room = $580/per lady (Cost after April 30th, $600)
1 lady per room = $660 (Cost after April 30th, $680)

1 Bedroom with full kitchen includes 1 Queen Bed and 1 Sofa Bed
4 ladies per room = $315/ per lady (Cost after April 30th, $335)
3 ladies per room = $413/per lady (Cost after April 30th, $443)
2 ladies per room = $620/per lady (Cost after April 30th, $640)
1 lady per room = $698.00 (Cost after April 30th, $718)
Please note: After April 30, 2018, Additional $20 is added (See cost after April 30th)
How can I contact the organizer with any questions?
email: info@passion4dreamsinc.com
What's the refund policy?
Refunds will be returned 1 month prior to the event. Refunds will not be given back after May 4th, 2018, unless there is an emergency that occurs and you are unable to attend.
Do I have to bring my printed ticket to the event?
Yes, please bring your printed ticket.
Can I update my registration information?
To update your registration information, please email info@passion4dreamsinc.com
Is my registration fee or ticket transferrable?
Yes, your registration and ticket fee is transferrable, if you would like to transfer your fee or ticket to someone else, please email us.
Is there an additional cost to be a vendor?
Yes, there is an additional cost to vend at the event. Please email info@passion4dreamsinc.com
Is it ok if the name on my ticket or registration doesn't match the person who attends?
The name on the ticket should match the person who attends. If you are purchasing more than one tickets, please ensure to send an email with all person name so the tickets can be customized.

Amenities
Air conditioning

Alarm clock

AM/FM radio

Cable television

Data port

Hairdryer

Iron

Ironing board

Kitchen

1 Queen bed

Sofa bed

Telephone

Wireless internet connection

Tables and chairs Fireplace – gas