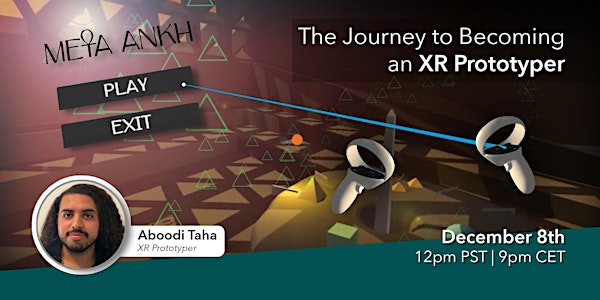 The Journey to Becoming an XR Prototyper
Want to become an XR Prototyper? Join Aboodi Taha as he shares with us his design process from prototype to a finished game.
About this event
XR Prototyper is one of the most in-demand jobs in the design industry. From virtual reality games to augmented reality experiences to VR design applications (like ShapesXR), the ability to design these types of applications IN 3D space one of the most important steps in the UX/UI pipeline.
What better way to learn than from designers who recognize industry trends and master all of the latest XR designer tools. Aboodi Taha recently completed Meta-Ankh, a sci-fi story that merges the cyberworld with the ancient-physical world set in a utopian ancient Egyptian city. Players progress through the game by solving puzzles in three spaces: Cube, Pyramid, and Dome. Aboodi prototyped his experience in ShapesXR and will walk us through his entire process.
About Aboodi
Aboodi recently joined XR Bootcamp -a global online academy, offering part-time, cutting-edge VR/AR development courses to beginners as well as experienced developers and researchers.
He holds a bachelor's degree in Architectural Engineering from Heriot-Watt University, and is currently pursuing a Master's in Design & Digital Media MSc at the University of Edinburgh. He is part of the awesome team at uCreate Makerspace at the University of Edinburgh, helping students and staff make (almost) anything!