Description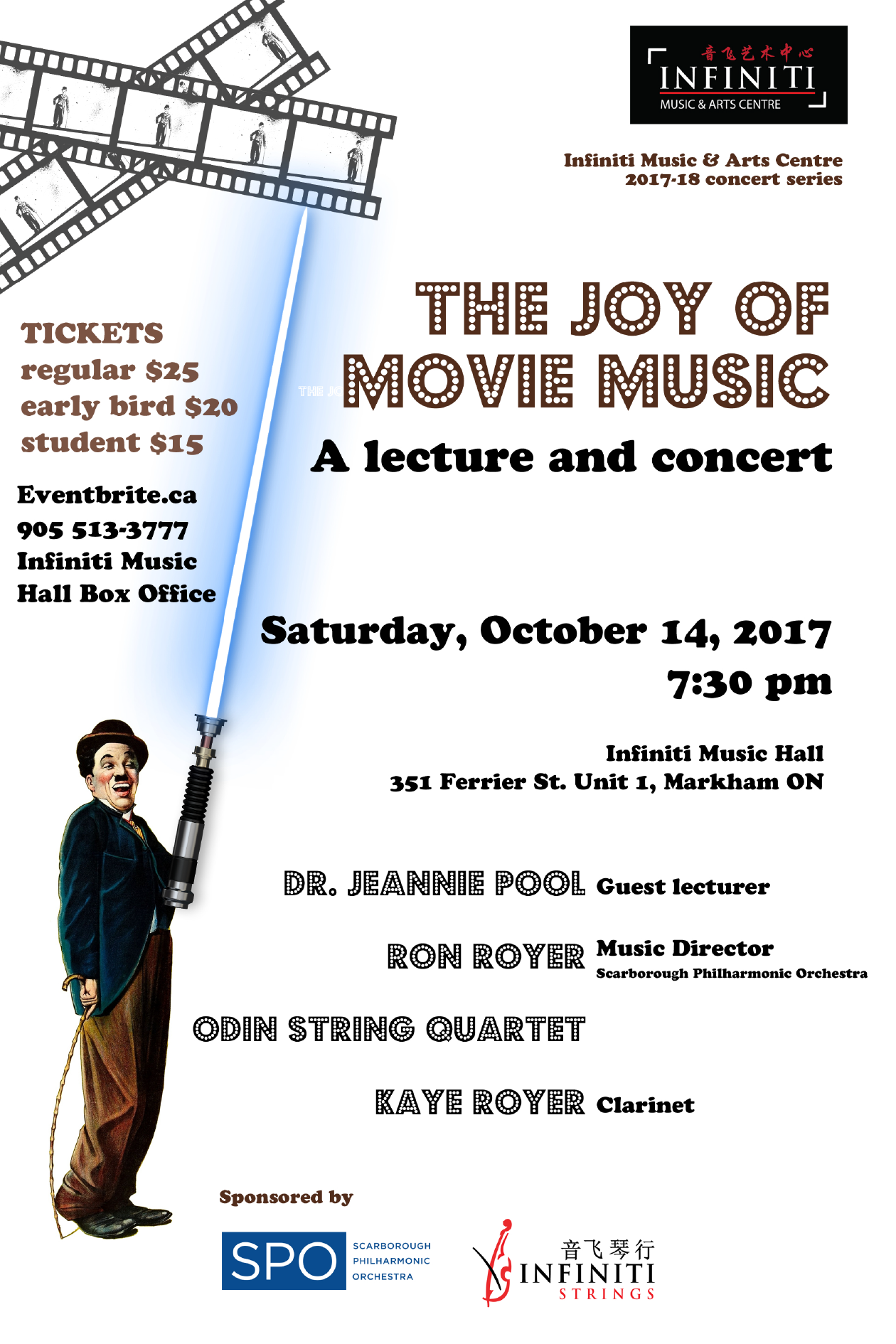 Hollywood film music consultant, composer and producer, Dr. Jeannie Pool will present a lecture on the history of music in the movies, from the silent era to the present.
An expert in the field, Dr. Pool will talk about music for the movies: Silents were never silent; the collaborative art of film scoring; song-driven scores; today's film making by committee (studio execs, directors, producers, and attorneys); She will use video clips to demonstrate how music is used in film. She will also talk about how to become a film composer; and how independent film making is leading the television renaissance.
Ronald Royer, who worked in Hollywood for 10 years (currently Music Director of Scarborough Philharmonic Orchestra), will assist Dr. Pool with the lecture.
The Odin String Quartet and clarinetist Kaye Royer will play music from the movies, including excerpts from Raiders of the Lost Ark, Harry Potter, James Bond, and other great films.
A great event consist of lecture and concert. DO NOT MISS. COME AND JOIN US.
Introduction of Guest Speaker
Dr. Jeannie Gayle Pool is a composer, filmmaker, musicologist, film music consultant, and producer. In recent years, her compositions have been heard throughout the U.S. and Europe. Her feature-length documentary, Peggy Gilbert and Her All-Girl Band, narrated by Lily Tomlin, is screened regularly worldwide. Her music publishing company, Jaygayle Music (ASCAP), publishes the music of Zenobia Powell Perry (1908-2004), among other composers.
Dr. Jeannie Pool is currently digitizing 20 years of radio broadcasts from her award-winning show on KPFK, "Music of the Americas," for release as podcasts.
As an independent music consultant for Paramount Pictures from 1995 to 2012, she did the original score restoration for Wings (1927) for the studio's 100th anniversary celebration; and her book, written with H. Stephen Wright, A Research Guide to Film and Television Music in the United States is used as a graduate textbook in film music history. Her company, Music Legacy Services, assists heirs in documenting and appraising music estates for donation to libraries.