On International Women's Day, join a conversation about COVID and motherhood with author Amanda D. Watson and CBC Radio One's Michelle Eliot
About this event
On International Women's Day, join us for a conversation about COVID, motherhood, and paid and unpaid work.
Amanda D. Watson is the author of The Juggling Mother: Coming Undone in the Age of Anxiety (2020, UBC Press). The book explores how the popular representation of the contemporary mother — frantically juggling paid labour and unpaid care work — perpetuates established inequities of race, gender, class and ability. Mothers with the most power are complicit in the exclusion of less privileged ones, but also in their own undoing.
At this event, Watson will read selected passages from The Juggling Mother, followed by a conversation with Michelle Eliot, award-winning journalist and host of "BC Today" on CBC Radio One. Watson and Eliot will discuss how the COVID-19 pandemic has exposed and intensified the challenges of this idealized version of motherhood.
---
Speakers
Amanda D. Watson is a lecturer in the Department of Sociology and Anthropology at Simon Fraser University. Her work has been published in the International Feminist Journal of Politics, Studies in Social Justice, and Politique de l'image.
Michelle Eliot is the host of CBC Radio One's midday open-line show BC Today. Michelle is an award-winning journalist with CBC Radio One, and has become a familiar voice as a regular guest host on regional and national programs, interviewing community members and prominent politicians, as well authors and musicians such as Douglas Coupland and Bif Naked. But her true passion is for the open line, where her skill at engaging callers probes further into their viewpoints and digs deeper into their personal stories.
MC
Travers is a Professor of Sociology at Simon Fraser University. Their recent book, The Trans Generation: How Trans Kids (and Their Parents) Are Creating a Gender Revolution, situates trans kids in Canada and the US, white settler nations characterized by significant social inequality. In addition to a central research focus on transgender children and youth, Travers has published extensively on the relationship between sport and social justice, with particular emphasis on the inclusion and exclusion of women, queer and trans people of all ages. Travers is Deputy Editor of the journal Gender & Society.
Land Acknowledgement
Jessie Williams, of the Squamish Nation, is the director of Indigenous relations in SFU's Faculty of Arts and Social Sciences (FASS). This role involves developing community partnerships, preparing a strategic plan for FASS to better serve its students, and initiating consultations to develop Indigenous student supports.
Williams holds a Master of Educational Administration and Leadership in Indigenous Education from the University of British Columbia. She has eight years of experience in educational services, policy development and assessment, and in language revitalization. She has a direct role in launching more than six academic graduate and undergraduate programs, certificates and diplomas in a partnership between First Nations communities and the post-secondary sector. Before joining FASS she was manager of recreation and community facilities at the Squamish Nation in North Vancouver.
________________________________________________________________________________________________
If you'd like to be kept in the know about more events from SFU Public Square, sign up for our newsletter!
Partners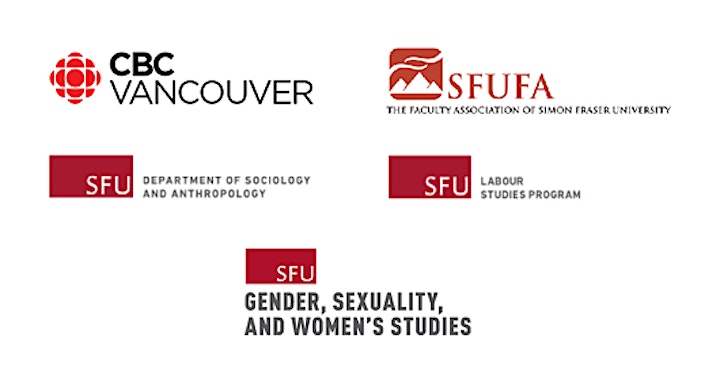 ACCESSIBILITY, TECHNOLOGY AND PRIVACY
Accessibility
Closed captioning will be available for this event.
Registration and password
A password to access this webinar will be sent to all registrants via email in the days and hours preceding the event.
Technology requirements
This workshop will be presented in a participatory webinar format. To engage fully you will need:
A laptop, computer, or smartphone
A webcam
A microphone
Speakers or headphones
Protecting your privacy
To ensure that we are using online meeting technology in a privacy-conscious way, we are following best practices for this online event series:
We will only circulate the meeting link to those who are registered for the event
We will password protect the meeting
We will enable end-to-end encryption
We will not use attention tracking
We will ask that participants use their first and last name as their display name on the webinar, so we can check incoming participants against the event registration list
To protect your own privacy we suggest that:
You use a unique email address to log into the webinar. This is so that the webinar platform can't cross-reference your profile with the rest of your digital profiles under your email address.
We suggest you do not use your Facebook profile to log into the webinar. This is so that the webinar platform can't cross-reference you with your Facebook account.
We remind you that whatever you say in the webinar is public and recorded, so please do not share sensitive information about yourself or others, and do not say anything you do not wish to enter the public domain.
To protect the privacy of others we ask that:
You do not record or photograph yourself, other participants, or the hosts during the webinar, unless permission is requested and given.
If you have any questions, concerns, or comments regarding this event's accessibility or privacy, feel free to connect with us at psqevent@sfu.ca.
________________________________________________________________________________________________
Commitment to community guidelines and social accountability
All participants are asked to participate as socially accountable community members. We ask that you provide your full name as your display name during the online meeting and that you review our community guidelines ahead of your participation in the event. This is to ensure the safety of our guests and speakers as well as foster honest and accountable dialogue between people in this space. Thank you for respecting our community guidelines!
Above all, there will be zero tolerance for those who promote violence against others on the basis of race, ethnicity, national origin, sexual orientation, gender identity, religious affiliation, or different ability. Anyone who incites harm towards other participants (be it through the chat, video or audio functions) will be removed at the discretion of our technical team and moderator.
Be as present as possible (put away phone, close/mute tabs).
Thoughtful questions are welcome in the chat throughout the session. If your question is for a particular speaker, type "@name" at the beginning.
Don't assume pronouns/gender/knowledge based on someone's name or video image. We can refer to people using the usernames they provide!
Step up, step back: if you've asked a question or shared a comment, ensure that new voices are heard before you contribute again.
Practice self-care: if you need to get up or take a break, please feel free.
Organizer of The Juggling Mother: Coming Undone in the Age of COVID