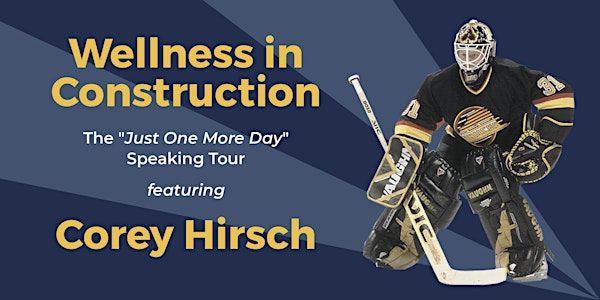 The "Just One More Day" Speaking Tour featuring Corey Hirsch - FSJ
Location
Stonebridge Hotel Fort St John
9223 100 Street
Fort St. John, BC V1J 3X3
Canada
Join ICBA for an important conversation about mental health in the construction industry, featuring former Vancouver Canuck Corey Hirsch.
About this event
Corey is a former NHL goaltender, coach and an Olympic Games silver medalist. But most importantly, he has opened a conversation to end the stigma around mental health.
In 1994, just three years after being drafted by the New York Rangers, Corey both won a silver medal and drank from the Stanley Cup as a member of the Rangers' championship team. What no one knew was that Corey tried to take his own life that same year.
Months later, he was traded to the Vancouver Canucks and went on to play 100 more NHL games, before finishing his career in Europe. The entire time, Corey struggled with his mental health issues. When he could no longer play due to debilitating panic attacks and severe weight loss, he finally reached out to his team trainer. Corey was eventually diagnosed with obsessive compulsive disorder and got the lifesaving treatment that he needed.
Corey would go on to coach goaltenders with the Maple Leafs and Blues, before joining Sportsnet Radio to do colour commentary for the Canucks.
In February 2017, Corey wrote a piece for The Players' Tribune, sharing publicly his mental health diagnosis and suicide attempt. His story sparked important conversations within hockey and beyond, as more athletes began to open up about mental health.
Today, Corey is an advocate in the battle to end the stigma around mental health. He is an engaging speaker that educates, motivates, and inspires his audience. He gives hope to others struggling by showing vulnerability and letting people know they are not alone.
Corey has joined ICBA as our Wellness Ambassador for 2022 and is part of our 2022 multi-city speaking tour, as well as providing content for ICBA's Workplace Wellness program (www.icba.ca/wellness).