Description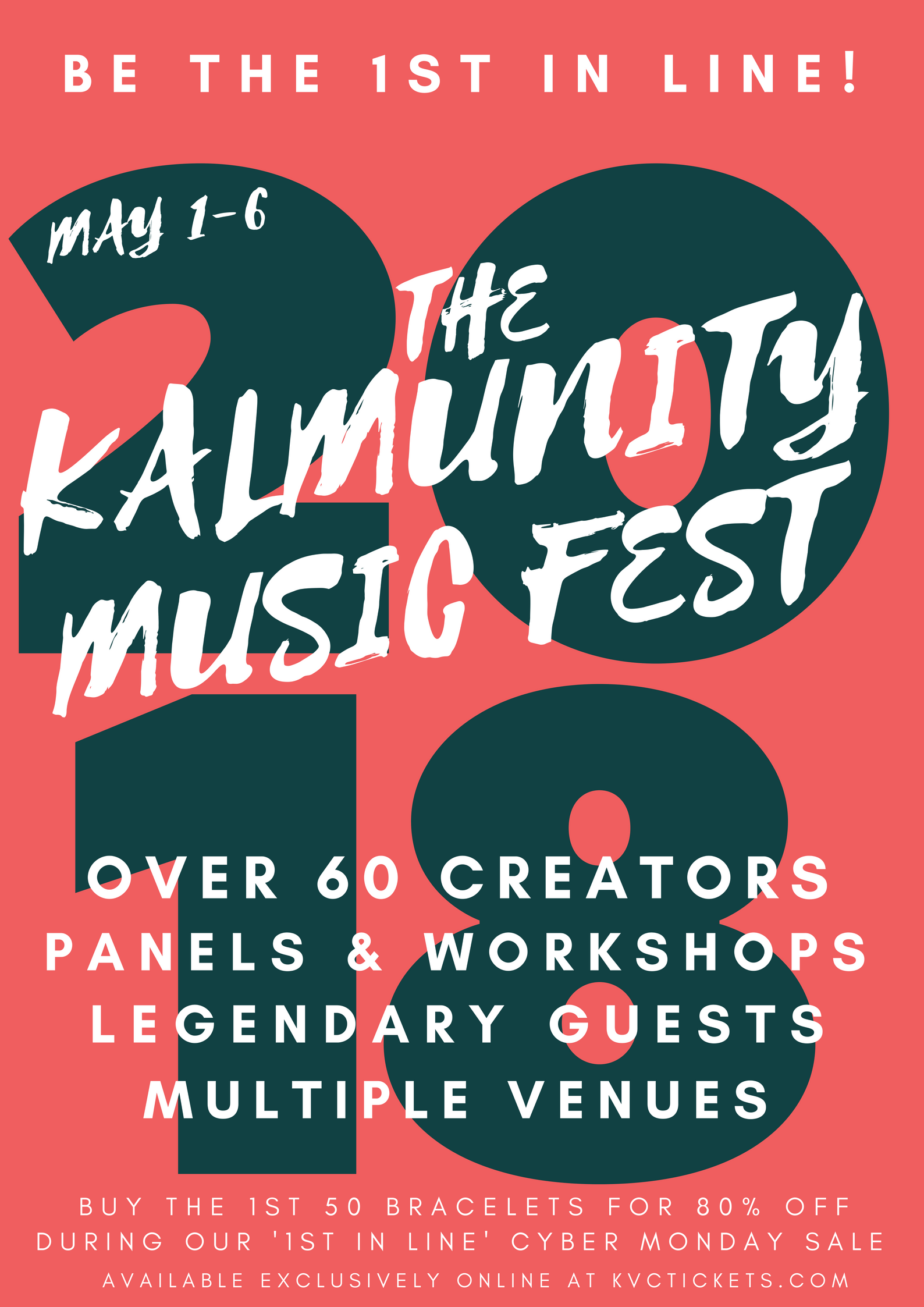 Kalmunity is proud to announce 'THE KALMUNITY MUSIC FEST'
Celebrating 15 years of The KVC!
Featuring over 60 creators, Legendary guests and of course, you're favorite members of the Kalmunity Vibe Collective who will be taking over multiple venues in the city of Montreal for 5 nights of epic entertainment and inspiration like never witnessed before. From old school greats to local legends, the Kalmunity Music Fest is going to deliver the goods and more.
The roster will be announced in the new year but we wanted to give our closest friends and family who support us week in and week out the chance to beat the rush and be the 1st in line with our 1st 50 festival bracelets that will allow you access to the entire event for one low price. Exclusively offered on Eventbrite for a limited time on a 1st come 1st serve basis. This introductory discounted price of 80% off the regular all access pass will only be offered once, so get in on the deal while it lasts!
WHO IS KALMUNITY?
The Kalmunity Vibe Collective is a Canadian based musical super group who are best known for their long standing weekly improvisational events that have taken shape in cafes, bars, clubs and concert halls across Montreal since 2003.
Founded and led by Jahsun, the collective consists of almost 100 artists and musicians from various backgrounds and disciplines which gives Kalmunity the ability to cover a plethora of musical genres and vocal styles in a variety of languages. For this reason the term 'Live Organic Improv' was coined to help best describe the eclectic and constantly changing sound and nature of the collective.
Never the same twice, a part of Kalmunity's magic lies in the fact that the collective changes with every event. Familiar faces, voices and instruments can be found peppered about, but as Jahsun politely reminds the dedicated revelers at all of our events, each moment with Kalmunity is not just special, they are unique. They should be savored and cherished, because the creativity you witness today will not be the same tomorrow, or ever again for that matter!
More than just a outlet of entertainment, Kalmunity is as informative as it is entertaining. The collective serves as a source of inspiration and upliftment not only for it's fans, but for the many artists and musicians that have been nurtured by the vibe since it's birth all those years ago. From globe trotters like Blu Rum 13, Monk.E, Cecile Doo Kingue & Malika Tirolien. To members of mega groups like Arcade of Fire and Nomadic Massive To musical legends like Kahil El'Zabar, Joseph Bowie, Ed Wilkerson and Alan Prater. Kalmunity has shared stages and creative space with all of these amazing entities along with countless others and continues to attract the legends of tomorrow with each passing week.
Kalmunity has been featured at major festivals and events across Canada since it's inception including The Montreal International Jazz Festival, The Irie Music Festival, House of Paint and Voix D'Amerique to name a few. They have also been featured on/in major local channels and publications such as Breakfast Television, MaTV, the Montreal Gazette, Cult MTL, Journal De Montreal and more.
Since 2004 Kalmunity has consistently been named best jazz, spoken word, hip hop and live act in Montreal by publications such as Cult MTL, Le Camuz and the Montreal Mirror. They were also named one of the top 10 cool things to do in Montreal by Local Montreal Tours in 2015.
Kalmunity has independently released two ep's as well as an anthology of literature entitled The Talking Book and walked away with top honors in CBC's Digital Diversity competition for the short film "Jahsun".
Kalmunity can be seen live every week at both Cafe Resonace and Petit Campus.
And always keep in mind.. this experience is 100% improvised!