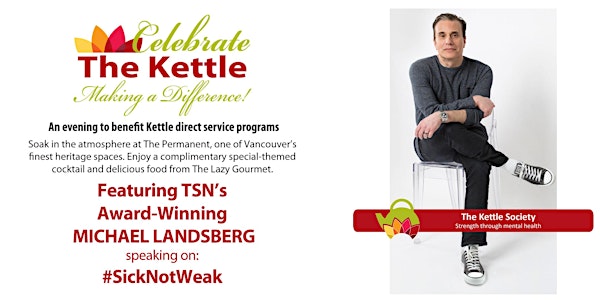 The Kettle "Making a Difference" Evening.
When and where
Location
The Permanent 330 West Pender Vancouver, BC V6B 3K2 Canada
Refund Policy
Contact the organizer to request a refund.
Description
Come celebrate The Kettle Society's inspired mental health work in Vancouver at an evening to benefit Kettle direct service programs.
Soak in the atmosphere at The Permanent, one of Vancouver's finest heritage spaces. The moment you walk in the door, you will enjoy a complimentary special-themed cocktail and delicious food from The Lazy Gourmet. Cocktails and conversation will lead into a special, rare public performance of the new Vancouver Opera – Kettle Chorus, which is working towards a new chamber opera Requiem for a Lost Girl in Spring 2018.
The evening's highlight is Michael Landsberg with his compelling personal story of speaking out about his mental illness and in the process creating a new campaign called #sicknotweak to encourage people to open up about their mental health issues.
One of the best-known personalities in Canadian broadcasting, Michael Landsberg has been with TSN since the network's inception in 1984. Landsberg speaks publicly about his personal battle with depression and considers his ability to help reduce the stigma of mental illness as his most important professional calling.
In 2013, Landsberg's documentary, "Darkness and Hope: Depression, Sports and Me," was nominated for a 2013 Canadian Screen Award for Best History or Biography Documentary Program or Series. In 2012, the Canadian Alliance on Mental Illness and Mental Health named Landsberg one of its Champions of Mental Health.
Twice nominated for the Gemini Award for Best Host or Interviewer in a Sports Program or Sportscast, Landsberg was the Whistler Host for Olympic Daytime on CTV during the Vancouver 2010 Olympic Winter Games. During the London 2012 Olympic Games, he anchored TSN's Olympic Daytime. For his longstanding dedication to promoting mental health awareness, Landsberg was honoured with the Humanitarian Award at the 2015 Canadian Screen Awards.
Landsberg created the hashtag #SickNotWeak, which is also is a not-for-profit organization. Funds collected in support of #SickNotWeak help provide education, while supporting a community for those suffering as well as those supporting a loved one who needs help.
Landsberg's favourite sports to watch are the CFL, Hockey, NFL, and golf. Michael has been a Bell Let's Talk spokesperson since 2014 and speaks openly about living with depression