Sales Have Ended
Ticket sales have ended
Thank you for your interest in this event. Sales have now ended. For more information on future events please contact craftsale@kingsu.ca
Sales Have Ended
Ticket sales have ended
Thank you for your interest in this event. Sales have now ended. For more information on future events please contact craftsale@kingsu.ca
Description
We are now accepting applications for the 2017 craft sale. Apply today for a vendor package which includes:
* Tabletop exhibit space
* One 8' table and two chairs
* Your product name and business out to the public
Social Media - Selected vendors will be featured on our social media channels (Facebook, Twitter, Instagram) leading up to and during the event. Please include your handles when applying so that we can connect with you. Vendors can submit a high resolution logo to be considered for the vendor section via email to craftsale@kingsu.ca.
New this year we are offering general and premium table locations. General locations are offered at an early bird rate of $45, and Premium locations are offered at an early bird rate of $55. After October 21 a $10 late registration fee is added to each price.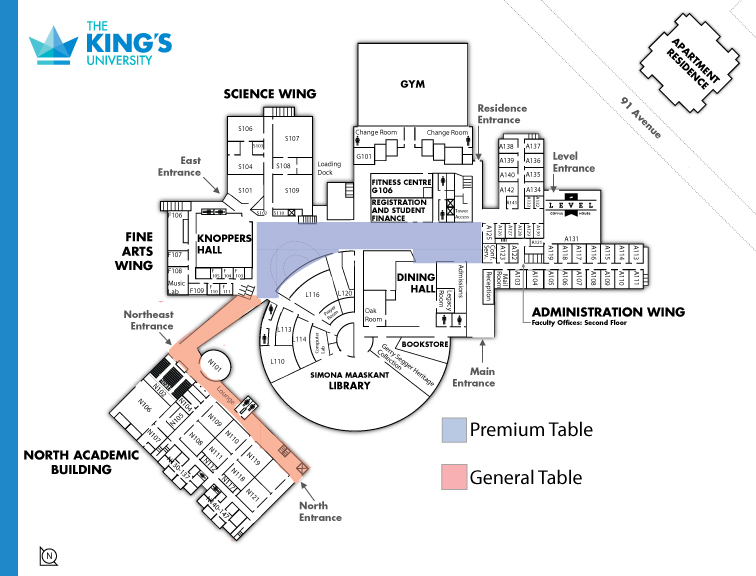 By completing this registration form and submitting payment you agree to the guidelines and regulations listed below.
VENDOR GUIDELINES AND REGULATIONS
Set-up ­
Vendor set-up takes place between 8 a.m. and 10 a.m. on the day of the sale (November 18, 2017).

Vendors must use only the table(s) assigned to them by The King's University.
Parking
After unloading, vendors must park in the designated area east of the University (behind the building).

Parking on the lot near the front entrance of the building is intended for customer use only.
Table placement
The King's University strives to provide a fair distance between vendor tables selling similar products.

Vendors can choose to purchase a general or premium table space and will be placed accordingly within that section.
Take-down
The sale closes at 3 p.m. after which time the vendors may dismantle their displays. Early dismantling of a display is not permitted.

Vendors are responsible for take down and removal of their trash by 4 p.m.
Electricity
Electrical outlets are limited. Access is not guaranteed. Electricity can be requested at an additional cost of $10.

Vendors must provide their own cords and surge protection for electrical equipment.
Legislation, liability and insurance
Vendors are responsible for compliance with all local, provincial and federal ordinances, regulations and legislations covering licenses, permits, fire safety and health, including food preparation guidelines.

Vendors must comply with all federal, provincial and municipal legislation, regulations, bylaws, resolutions and standards including, without restricting the generality of the foregoing, maintenance of insurance in such amounts and for such coverage as is required by any federal, provincial or municipal regulators or licensers of the vendor's business.

When reserving a table, the vendors must indicate on the Registration Form the name of their home or business insurance company and policy number. This insurance serves to cover all personal inventory and equipment for the duration of the sale.

The King's University assumes no liability for loss or damage through any cause, of goods, exhibits, or other materials owned by the vendor.

Vendors are responsible for the security of their property and displays on the day of the sale.
Cancellation policy
No refunds are granted for cancellations after October 18, 2017.

Registrations are transferrable. For information on how to transfer a registration contact craftsale@kingsu.ca
---
The King's University protects your personal information and adheres to all legislative requirements with respect to protecting privacy. The information you provide will be used to deliver services and to keep you informed about King's events and news. Individuals who submit information to The King's University acknowledge the above and consent to the collection and use of personal information.