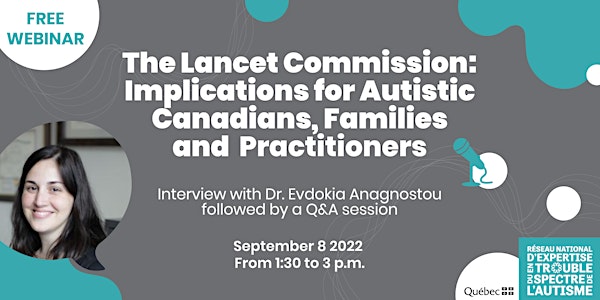 The Lancet Commission: Implications for Autistic Canadians
Dr Evdokia Anagnostou discusses the impact of the Lancet Commission on autistic Canadians. She will answer your questions in a Q&A session.
About this event
The Lancet, a periodical of great renown in the medical world, launched a commission bringing together clinician-scientists, researchers, parents, autistic people, and policy makers for three face-to-face, for pre-pandemic meetings, with representatives from six continents. The goal of the commission was to determine, for the next five years, what information identified from research could impact the lives of people with autism today. The Lancet Commission's recommendations are here .
In this interview, Dr. Evdokia Anagnostou, a Child neurologist, member of the Lancet Commission, answers our questions regarding the impact of the Lancet Commission on autistic Canadians (children, adolescents and adults) and on the practitioners who work with them and their families. She discusses the concepts of stepped-care approach, profound autism, heterogeneity, evidence-based treatments and interventions, neurodiversity and neurodivergence, and much more.
Webinar participants will also have the opportunity to ask questions to Dr. Anagnostou during a question and answer period of nearly 30 minutes. The activity will be translated and available in French and English.
For more information, click here!
Pour la version en français, c'est ici!