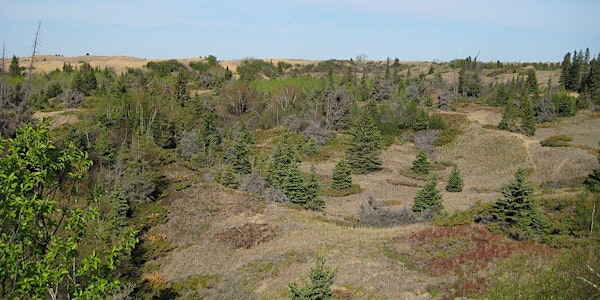 The Landscape of Manitoba's Glacial Assiniboine Delta Area
Join us to explore the physical and cultural geography of the south-central area of Manitoba, an area shaped by ice, water, and wind.
When and where
Location
Manitoba Historical Society Tour 710 A One Lombard Place Winnipeg, MB R3B 0X3 Canada
About this event
This exclusive Manitoba Historical Society bus tour will explore the physical and cultural geography of the south-central area of Manitoba, an area shaped by ice, water, and wind. The tour route will pass through Portage la Prairie, Carberry, Austin, Glenboro, Spruce Woods Park, and Holland, traversing some of the most interesting scenery in Manitoba. Participants will learn about the Assiniboine Diversion, Assiniboine River paleo-channels, the sand dunes in Spruce Woods, the evolution of the Assiniboine Valley, and the history of the Pembina Valley river capture. Aspects of the area's cultural history, including the legacies of Ernest Thompson Seton and the Criddle family will be explained. The tour concludes with a visit to Portage la Prairie, where James Kostachuk, historian, and past Manitoba Historical Society President, will be our guide.
TOUR LEADERS: Dr. Bill Rannie and Dr. Jock Lehr, retired Professors of Geography at the University of Winnipeg and James Kostuchuk, Historian, Portage la Prairie.
The tour fee includes travel by an air-conditioned restroom equipped coach, lunch and dinner and all admissions, taxes, and gratuities.
Seating will be assigned according to the order in which reservations, paid for in full, are received.
Participants must show proof of Covid 19 vaccination and wear a mask while seated on the bus.
Price: For MHS members $99.00. Non-members $110.00
**NEW Pickup/Dropoff location!- This tour will depart from the Walmart Super Centre at 1000 Taylor Ave, Wednesday , August 10th 8.00 am. Return at 8:00.pm
Guides
John is a retired Professor of Historical Geography at the University of Winnipeg, specializing in Ukrainian settlement in western Canada and South America, communal settlements in Canada and Israel, and provincial parks in Manitoba. He was President of the Manitoba Historical Society from 1998 to 2000, and he has organized numerous popular and informative field trips for the society.
Dr. Bill Rannie
Bill is a retired Professor of Geography at the University of Winnipeg, specializing in historic hydrology of the eastern Prairies and Northwestern Ontario.
James Kostuchuk
James Kostuchuk is an instructional coach for the Portage la Prairie School Division. He is a former recipient of the Prime Minister's Award for Excellence in Teaching and was twice short-listed for the Governor General's Award for History Teaching. His interest in history led to the establishment of the Portage Collegiate Institute Archive, and archive program. He is the present chair of the local Municipal Heritage Advisory Committee and the Portage la Prairie Community Revitalization Corporation, and is a member of the library board. James completed degrees in political science and education from the University of Manitoba and is completing a master's degree in instructional design from the University of New Brunswick. He has an interest in history writing and research.