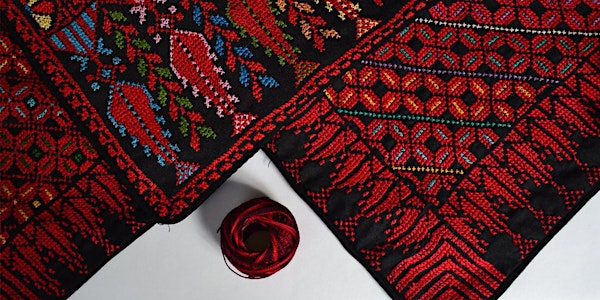 The Language of Palestinian Tatreez
When and where
Location
Edmonton Clinic Health Academy (ECHA) Room 2-190 11405 87 Ave NW Edmonton, AB T6G 1C9 Canada
Description
For generations, Palestinian women have gathered together with their daughters to work collectively on traditional Palestinian tatreez embroidery projects, bonding with one another over a cup of tea. Over time, and after the exodus of Palestinians from Palestine in 1948, embroidery has become an endangered art that has been subjected to decades of cultural appropriation.
But embroidery represents more than just a village craft of old Palestine — it became the primary form of communication for Palestinian women who used needlework as a way to express their opinions, share their stories, and document their protest of occupation, war and violence.
In this presentation, Wafa Ghnaim and her mother Feryal Abbasi-Ghnaim will decode and discuss the meaning and history of traditional tatreez embroidery patterns, bringing traditional Palestinian embroidery to life by revealing the profound depth in meaning, inspiration, and storytelling power that is encapsulated in each motif.
This event is free and open to the public.
Their presentation will be followed on Saturday, September 30 by morning and afternoon hands-on workshops where participants will learn how to embroidery a traditional Palestinian tatreez embroidery motif. All materials will be provided, but space is limited and registration for these workshops is required.
Register for the morning workshop.
Register for the afternoon workshop.
About the presenters
Wafa Ghnaim is an American born Palestinian businesswoman, writer and artist. Her father's side of the family is from Yaffa, Palestine, though they now reside in Amman, Jordan. Her mother was born in Safad, Palestine, twice displaced — first, to Damascus, Syria and then to Amman, Jordan. Wafa and her two sisters began learning Palestinian embroidery from their mother when they were each about 4 years old.
Wafa is the author of Tatreez & Tea: Embroidery and Storytelling in the Palestinian Diaspora, which is based on over 30 years' worth of oral history interviews, recorded demonstrations, lectures, journal entries and photographs from her and her mother. In the book Wafa documents, decodes and preserves the patterns, meanings and oral history of over a dozen traditional Palestinian embroidery designs passed on for generations between women in her family.
Feryal Abbasi-Ghnaim was born in Safad, a northern city in Palestine. During the 1947-48 war, her and her family fled Palestine for refuge with the intention of returning after the war was over. Her family first fled to Damascus, Syria. Then to Manbej, a town in Northern Syria near Aleppo where they resided until 1952 when they moved to Irbid, Jordan.
Feryal learned embroidery from her mother and grandmother in Syria. Palestinian women have gathered together for generations with their daughters to work collectively on embroidery projects, bonding with one another over a cup of tea, and Feryal found solace in continuing the tradition with her own daughters.
Feryal has dedicated her life's work to teaching young women of color the traditional art of Palestinian embroidery and fabric art, and still leads workshops and classes at all educational levels in public schools in Oregon, and is a four-time grant recipient of the Traditional Arts Apprenticeship Program through the Oregon Folklife Network.
For full bios of Wafa and Feryal, visit tatreezandtea.com.
Thanks to the Alberta Public Interest Research Group (APIRG) for their support of this event.