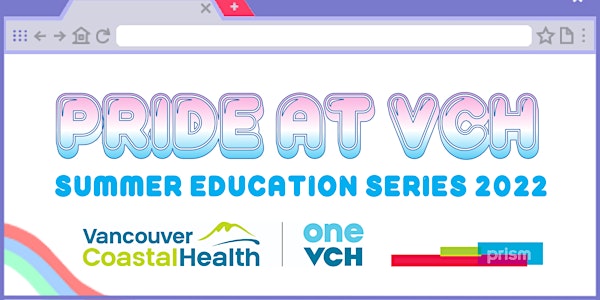 The Liminal Chrysalis: Reproduction and Parenting Futures Beyond the Binary
Editors and authors from The Liminal Chrysalis will discuss the process of compiling the collection, its themes and goals, & read an excerpt
About this event
2022 VCH Prism Service's Summer Education Series
During this session, Kori and A.J. will reflect on their experiences compiling the edited collection The Liminal Chrysalis, released by Demeter Press in January 2022. They will introduce attendees to the themes and goals of the collection - namely, to challenge the various pervasive binaries in the ways that we think about reproduction and parenting, centering trans and nonbinary voices. They will also discuss the importance of fusing academic and non-academic writing, explore the challenges and joys of working with variously located authors, and share how the pandemic impacted their process. Kori and A.J. will be joined by Serena, who will be reading her contribution to the collection, Otherhood, a short piece of poetic prose which explores her experiences of reproductive decision-making as a trans femme.
Serena Lukas Bhandar (she/her) is a writer, educator, and witch of Punjabi Sikh and Welsh ancestry, as well as an incoming MA student in English at the University of Calgary. Serena's first chapbook of poetry, this dying body, will be published in July 2022 with Rahila's Ghost Press, and her issue of Room magazine, on the theme of ancestors, is currently available.
Kori Doty (they/them) is a genderqueer community educator and student of somatic sex education based in Lekwungan Territories (colonial victoria). They are of European dissent and identify as a disabled, neurodivergent, queer, polyamourous, parent of one incredible 5 year old daughter. The Liminal Chrysalis was Kori's first published book; the bulk of their education work and writing have and do live online (esp. Since COVID), including articles, live virtual events, podcasts, social media and memes.
A.J. Lowik (they/them) is a trans reproductive health researcher and trans studies scholar. Their work focuses on trans people's reproductive lives, health and health care experiences, including in the areas of menstruation, pregnancy, childbirth, nursing, abortion and perinatal mental health. They are the Gender Equity Advisor at the Centre for Gender and Sexual Health Equity, a Board Member of the Abortion Rights Coalition of Canada, and a trans-inclusion consultant, working with clients who are interested in creating meaningfully inclusive spaces and services for trans people.
ajlowik@cgshe.ubc.ca