The Long and Winding Road
About this event
Nursing The Future Presents : The Long and Winding Road featuring Dr. Netha Dyck! In this one hour session our nursing leader will share her personal road to leadership and how new graduates can embark on their own nursing leadership journey. After the session, one attendee will be chosen to spend A Day in the Life with Dr. Dyck!
Do you have questions for Dr. Netha Dyck? Not everybody is comfortable voicing their questions in live sessions so if you are more comfortable pre-submitting your question(s) here, we will address them anonymously during our session!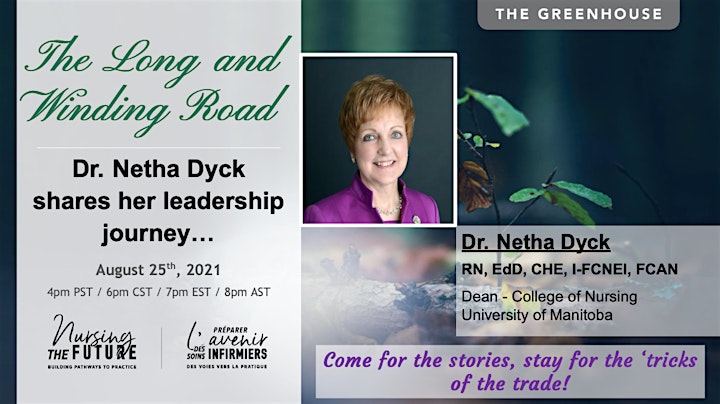 About Dr. Netha Dyck, RN, BN, MScA, EdD, CHE, I-FCNEI, I-FCAN
Current and Former Positions: Dean, College of Nursing, University of Manitoba; Dean, School of Nursing and School of Health Sciences, Saskatchewan Polytechnic; Director, PCH Program, WRHA; Assistant Executive Director, Nursing/Patient Care Services, Concordia Hospital; Chair, Continuing Education, Red River College; President, Manitoba Association of Registered Nurses (MARN); Director, Staff Development and Quality Assurance, Bethesda Hospital; Assistant Director of Nursing, Bethesda Hospital; Intensive Care Nursing, Health Sciences Centre, Winnipeg; Operating Room Head Nurse, Bethel Hospital; Surgical and Obstetrical Nursing, Bethel Hospital.
Biography: Her diverse career in nursing leadership has spanned from nursing practice, to governance of professional associations, to nursing education. Just six months into her nursing career, she assumed the position of Operating Room Head Nurse. This experience prepared her for progressively more senior leadership roles in a broad range of nursing and interprofessional practice areas. As President of the MARN, she had the opportunity to engage with and advocate for nurses, as well as liaise with government, health care employers, and community groups. Dr. Dyck subsequently transitioned to providing leadership in academia, working with amazing teams in the design, development, implementation and evaluation of quality undergraduate and graduate nursing education programs. Throughout her career, she has engaged in formal and continuing education, contributed on boards and committees, and had the privilege of collaborating with inspiring nursing leaders and colleagues.