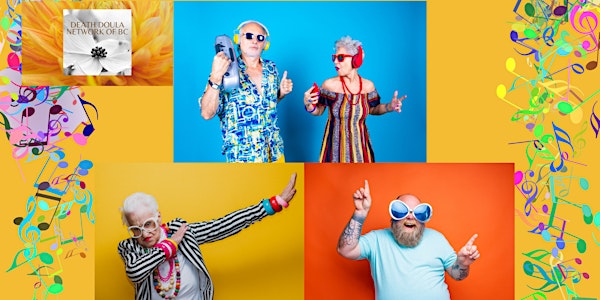 THE MAGIC OF MUSIC & LAUGHTER
PRESENTED BY THE DEATH DOULA NETWORK OF BC
About this event
The Magic of Music & Laughter -
Lyrics, Laughter & Levity ...
THIS EVENT IS FREE TO ATTEND - OPEN TO THE PUBLIC
Join Jo-Anne, Robin, and Yanti in this unique, fun, and exciting evening where you will personally experience the therapeutic magic of music and laughter.
Rarely do we stop to consider how lyrics, laughter, and levity can go together to ease the pain of loss.
We will lead you in activities that will shake you up, release tension, and have you laughing out loud.
"Laughter is the shortest distance between two people" - Victor Borge
REGISTRATION IS REQUIRED
Your Hosts & Educators:
Jo-Anne Haun, End of Life Alternatives & Karen Hendrickson, Take the Journey
About Robin Rushton
Health, Joy & Peace Through Laughter with Robin RushtonCertified Laughter Yoga Facilitator since 2008
Robin is an outgoing and engaging laughter leader and coach. She brings her positive outlook on life and warm, approachable style to her sessions. After a childhood history of trauma and a head-on motor vehicle accident that left her unable to walk for the better part of a year, Robin understands both the benefits of laughter and the ability to change your inner dialogue to a more inspiring message.
As a lifelong learner and trained educator, sharing her enthusiasm and zest for life, Robin will ensure you leave a laughter session feeling lighter, motivated, and reacquainted with your natural childlike essence of joy and spirited playfulness.
Robin is an aspiring end of life doula and volunteers with her local hospice because she believes in building community and giving back. She makes her home in the Cowichan Valley on Vancouver Island and can be reached through the DDNBC Facebook page or by phone.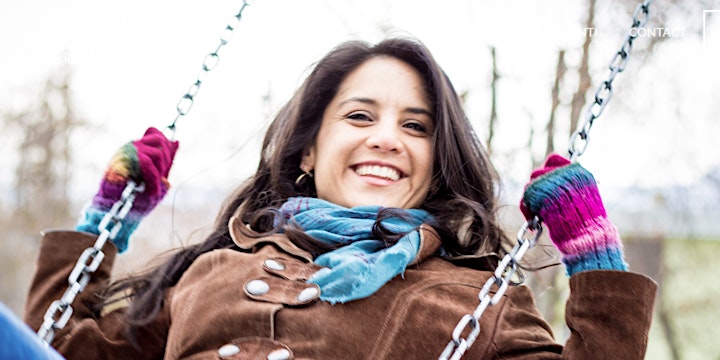 For the past decade, Yanti has performed locally in many different combos and venues. From Jazz Standards at weddings or retirement homes to rock ballads for fundraisers, either live or karaoke, Yanti has a diverse range of vocal talents. Not only is Yanti involved with performances, she also passionately teaches ukulele and voice at the Martin St. Art and Music Gallery as well as beginner musical theatre at Even Dance in Penticton. Yanti loves to perform and teach year-round in the South Okanagan. As a featured vocalist for hire, Yanti performs with local jazz band Sax Among Friends, The Justin Glibbery Quartet and with Crawford & Crossley Quartet. Please visit www.yanti.ca for details on upcoming performances.
Jo-Anne is a professional Death Doula, Death Educator, Therapy Clown, and co-founder of the Death Doula Network of BC.
Jo-Anne has extensive experience in communications, negotiations, and conflict resolution all with a focus on supporting others through difficult times.
Through her continuing work in personal development and volunteer services, Jo-Anne has gained training and experience in emotional intelligence, workshop development, public speaking, and group facilitation.
As a member of the National End of Life Doula Alliance, Jo-Anne is committed to a regulated and monitored scope of practice and applies the utmost integrity and ethics in her work.Jo-Anne's volunteer experience includes responsibilities as a Board member for the Central Okanagan Hospice Association and the Westside Health Network Society. She also volunteers in community support at Hospice and is a Therapy Clown – "Licensed for laughter and clowning", volunteering with two local groups visiting residents in care facilities and hospitals.
Jo-Anne Haun and End of Life Alternatives, provide educational seminars, workshops, and private Doula services.
Jo-Anne's passion is people and she has found her gifts are working with people in palliative care and at end of life.
Jo-Anne believes :
Everyone should have a say in their care and treatment and be advised of all of their options.
Everyone's dignity should be kept intact and their wishes honored.
Everyone should have a plan in place for their final journey.
Everyone needs to have discussions with their loved ones about their wishes for end-of-life care and treatment,
Everyone should have an advocate/friend/confidante with whom to walk the final journey.
Together we can make your end-of-life journey as gentle, connected, and caring as possible for the sake of you and the ones you love.