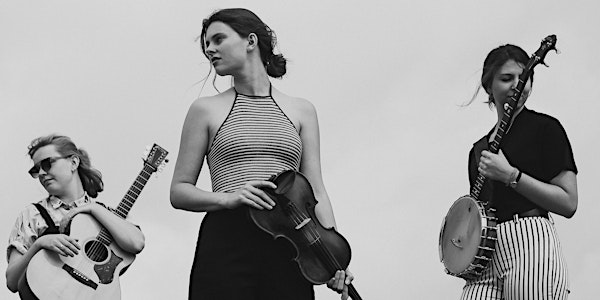 The Magpies (Uptown At Night Series)
Beautiful harmonies, exquisite genre-crossing musicianship, and the blend of traditional and original material ...
When and where
Location
Fredericton Inn 1315 Regent Street Fredericton, NB E3C 1A1 Canada
About this event
Music Runs Through It presents, in association with The Fredericton Inn,
The Magpies as part of the Uptown At Night Series
Tuesday, November 29, 2022 at 7:30PM (doors 7PM)
It has only been a short space of time since The Magpies burst onto the UK folk scene, but they have already made a huge impression with their fresh brand of transatlantic neo-folk and have been 'making waves wherever they play' (Phil Beer, Show of Hands).
Based on a deeply felt musical friendship, The Magpies work collaboratively, arranging material led by powerful vocals and glittering instrumental ornamentation. They each draw on their wide-ranging influences to create a unique blend of transatlantic folk, transporting audiences to distant lands and capturing imaginations with their enthralling live show.
Three accomplished musicians in their own right, The Magpies is a combination far greater than the sum of its parts. Celtic Connections Danny Kyle Award winning guitarist, banjo-player and singer Bella Gaffney is known for her folk inspired songs which she performs along with her own original arrangements of traditional pieces. Said to be 'one of the best banjo players in the country' (Dan Walsh), clawhammer banjo player and singer Kate Griffin's compositions fuse influences from the British Isles, America and India. And acclaimed fiddle-player Holly Brandon is an 'ingenious tunesmith' (Living Tradition), with roots in traditional English music, but with influences from Eastern Europe to Quebec, she creates a distinctly borderless and progressive sound.
Their debut album - Tidings - was released in June 2020 to critical acclaim. A rich and varied showcase of their live sound, the album draws on a range of influences and delivers a sound that can only be described as contemporary. A huge range of exquisite instrumentation on mandolin, guitar, fiddle, cello, bouzouki and banjo provide a thrilling canvas on which they paint their stories. The album is full of songs which explore uniquely female experiences in unpredictable and surprising ways. From the transformation and sorcery of the traditional ballad The Two Magicians, to lost love, murder and suicide in the original Run River Run, The Magpies bring a fresh voice to the current milieu. As well as drawing on their experiences as women, the material is also deeply rooted in the traditions of their native Yorkshire.
'One of those effervescent albums you'd be happy to recommend to people who might not consider themselves folk fans' - The Sunday Times
'Folk with finesse' - The Daily Mail
'Check that album out! Really good mix of songs and instrumentals - they're great players!' - Mark Radcliffe, BBC Radio 2
'Beautiful harmonies, exquisite genre-crossing musicianship, and the blend of traditional and original material make 'Tidings' a work of sheer beauty.' - Folk and Tumble (5*)