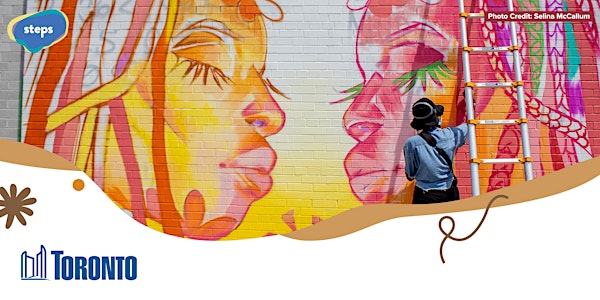 The Mane Event: Community Arts Workshops
Join artists, Franceta Johnson & Curtia Wright, & project partner, D'Andra Montaque, for 2 days of artmaking, conversation & mural ideation!
Date and time
Sat, Sep 10, 2022 1:00 PM - 5:00 PM EDT
About this event
How does hair shape our identity and wellness? Join STEPS Public Art, Artists, Franceta Johnson and Curtia Wright, and project partner and founder of Empress Mane, D'Andra Montaque, for two days of creative art making, conversation, play, and community mural ideation!
The Mane Event is a community arts series that speaks to the importance of hair in Black culture, recognizing hair as art and an expression of identity.
Share local stories, creativity, and highlight the importance of local barber shops and salons in the historic, current, and future character of Little Jamaica.
Gather with community members through hands-on workshops deep-rooted in community care, resiliency, self-expression and identity, culminating in a permanent public art mural led by Curtia Wright.
About the Workshop Series
These are the last in a series of six (6) community arts and hair workshops, with Artists Curtia Wright and Franceta Johnson leading art-based and playful activities to spark our imaginations and creativity.
Each session offers an opportunity to share and connect with an intergenerational group of artists and community members.
Art-Making and Mural Ideation with Curtia Wright & Franceta Johnson (August 27, 11-4 PM at Little Jamaica Sinting Fest - 1603 Eglinton Ave West)
Art-Making and Play Session with Curtia Wright & Franceta Johnson (September 10, 1-5PM at Reset Community Centre - 634 Vaughan Rd)
All materials provided, with surprise giveaways!
These family friendly events are a great way to close out the summer while honouring the local stylists and barbers who continue to shape the character of the Little Jamaica community.
Accessibility Notice
This is a free, family-friendly event! Materials will be provided.
The Mane Event team is committed to full participation in this event. Please email ima@stepspublicart.org with any questions or to share access needs.
Parking
Street Parking is available for both event dates.
Public Transit
COVID-19 Considerations
Let's work together to keep everyone safe! Contact information will be recorded for tracing purposes.
We are grateful for our community collaborators,


About the organizer
STEPS Public Art is a Canadian-based public art organization that develops one-of-a-kind art initiatives and engagement strategies that transform public spaces. We are responsible for Canada's largest and most community-engaged public art initiatives. STEPS has partnered with over 70 public and private land developers to meet their public art needs and is the industry leader for hoarding exhibit services. We seek to inspire cities across Canada and around the world to create welcoming public spaces that reflect, engage and empower communities through artistic excellence.