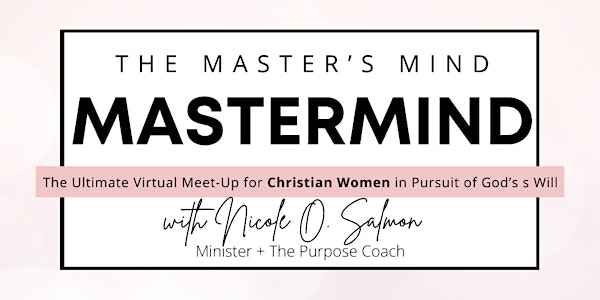 The Master's Mind Mastermind Challenge
4-Week Self-Guided Spiritual Formation Challenge for Christian Women in Pursuit of God's Will
About this event
What you need to participate successfully:
Zoom Video Conferencing (Zoom.us)
Access to Wifi
Laptop, Tablet, or Cellphone
GroupMe App (available on Apple and Android)
*THIS IS A NON REFUNDABLE INVESTMENT
Welcome to the Master's Mind Challenge!
This is the ultimate Spiritual Formation Challenge for Christian woman who desire to understand the Master's mind in 2022.
Align your thoughts, heart, and actions with the Master's mind for a more purpose driven new year.
Join a mid-size community of faith-filled women for a weekly 1-hour tutorial and discussion.
Enrollment Includes: [Value $750 CND]:
4 - Weekly Video Tutorials - Just the dose of clarity you need to kick off a Purposeful 2022.
[30 days access to session replays included]
You'll be given access to my private website member page where you can access the masterclass replays, worksheets, and assignments.
What we'll be covering:
WEEK 01| Hermeneutics Crash Course : How to Study the Work of God - Everyone has an interpretation, but do you know a biblically solid word when you hear it? We'll take a high level look at user friendly tools for interpreting scripture accurately so we can apply it to our daily living.
WEEK 02| Pneumology Introduction: How to Hear the Voice of God - Learn 4 ways you can personally hear from God, identify your modality, and explore the 3 main ways to discern if the voice you are actually hearing is from God.
WEEK 03| Spiritual Formation Fundamentals: Live the Will of God - Spiritual formation is the journey we are all on. Discover the seasons' and stages in which God uses every circumstance in the Believer's lives for the purpose of making us more like Him.
WEEK 04 | Hot Chocolate Huddle: Cozy up with my favorite Hot Chocolate recipe and your favorite hot topics from our previous 3 sessions. We close with a very special blessing and intercessory prayer (https://www.crosswalk.com/faith/prayer/a-prayer-of-intercession.html) as we place our 2021 before God.