Sales Have Ended
Ticket sales have ended
Thanks for signing up! We'll see you in Merritt.
Sales Have Ended
Ticket sales have ended
Thanks for signing up! We'll see you in Merritt.
120 km. 3,000 meters. Only 12 hours. The Merritt Crown is an endurance mountain bike race for the most noble mountain bikers.
About this event
Join us virtually from your local area.
3 ways to participate:
CROWN - 120k , 3000m
TIARA - 60k, 1500m
RELAY - 30k, 750m (x4 ppl)
Complete a 120km (or 60km or 30km) ride with 3,000m elevation in a single effort, in under 12 hours to be eligible for prizes. Choose to package your race entry with a custom Jakroo jersey (see below).
Win a SRAM NX 11 Groupset from Independent Cycles! Or much more!
Where: We have several suggested routes being prepared for each health authority - Thanks to Independent Cycles, Evergreen Cycling, Landyachtz Bikes and Gorge Active Wellness!
When: June 19- July 4, 2021
How: Ride 120, 60, or 30k while tracking with Endurance app
Who: Anyone can ride the courses, but only registered participants will win prizes
All registered participants get custom Jakroo jerseys designed by the talented Lala Fuchs. See the mock-up below. Make sure to update your jersey size and shipping address on Eventbrite by May 10th.
Sign up now to become part of mountain bike royalty.
Thanks to our sponsors: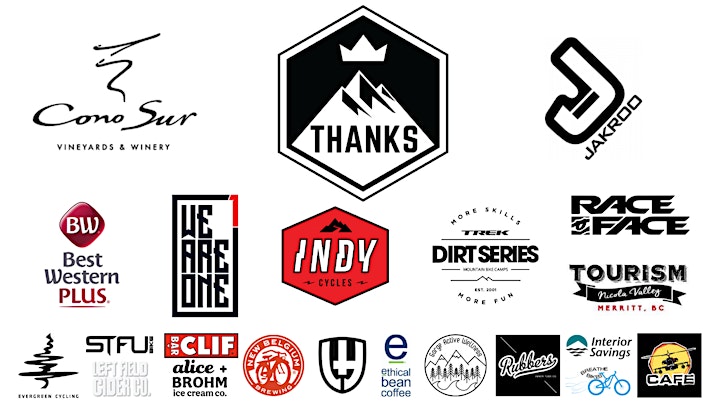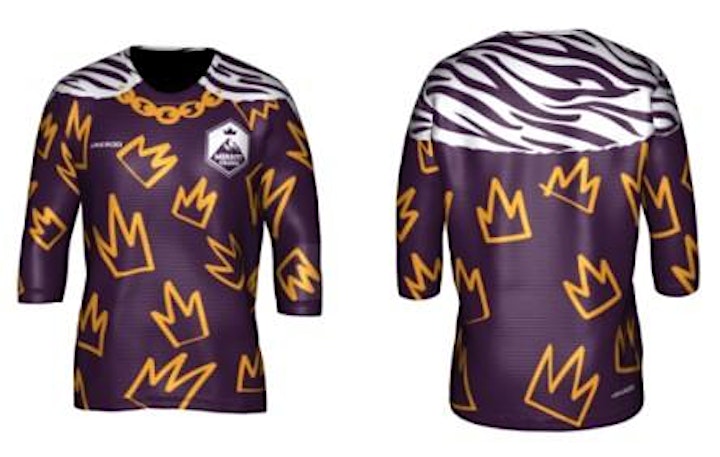 FREQUENTLY ASKED QUESTIONS (FAQ)
I've already signed up to race the Merritt Crown. Do I sign up again? If you're signed up, you don't need to register again. Just make sure to update your jersey size and address on Eventbrite.
Can I ride the course in Merritt? Yes. For Interior Health Region homies, Darch will be at the Info Centre (half-way point) on June 19th from 8AM-4PM with a truckload of refreshments, snacks, and smiles for anyone who wants to log their virtual ride in Merritt on the Crown or Tiara course.
What am I paying for? I can ride around my own neighbourhood any day. Of course you can, but you won't be competing for $1000s in prizes. You get a custom Jakroo jersey to show ($60 value). You get priority access to early bird tickets(%25 off) for next year. You support the Merritt mountain bike trails. In 2019, we raised $500; in 2020, $3000.
Why can't you postpone it? Even though vaccines are rolling out, cases in BC are higher than ever and we just don't feel confident in local/federal governments making the right choices for the pandemic to clear up soon. We hope it does, but we recognize people have been training with a specific race date in mind and we want to keep the stoke high, instead of postponing again. We postponed last year and while we were very luck to have pulled off the race we did, between June and September nothing changed in terms of health regulations.
How do I get a refund? Login to Eventbrite, find your ticket and choose, Request Refund by May 10th so we can place the jersey order. Refunds will be processed within a week of requesting.
Do I need to ride a recommended route? No. Ride whatever, wherever you want, just make sure it adds up to the right distance and elevation gain. More recommended routes will be added in the Fraser Valley, and on Vancouver Island as we approach June 19. See the recommended routes here. Let us know if you have a route you recommend in your area.
How are prizes awarded? If your ride meets all of the criteria you will be entered into a random draw for prizes. Best times for male and female in each category will be guaranteed prizes. Bragging rights and kudos awarded to other fastest times. Special recognition provided for prioritizing off-road travel. Check Instagram for a video of the $1000s in prizes available!
Can I transfer my ticket? Yes. Login to Eventbrite, find your ticket and choose, Transfer ticket.
Trouble purchasing your ticket? Contact Eventbrite here: 1-877-620-9578
How do my friends/family follow the live tracking? Follow along on Map My Tracks website. Stay tuned for route updates to this page.
How does the app work? The Endurance app uses cellular data (not much) instead of GPS, and is not very reliable in the steep/treed area of North Vancouver, but has tested well in Merritt so far. Its fun for us to follow along if you can use it, but tracking with Garmin/Strava/Trailforks/ etc. still qualifies, you will just need to upload your route after.
What bike should I use? Most people use something between a hardtail and short-travel full suspension. However, we encourage you to test your skill on any bike. Evergreen Cycling and Landyachtz Bikes have provided recommended gravel and road routes.
What should I carry on my bike? You should pack anything you will need for a full day of biking: cell phone, navigation device, tools, pump, tire repair kit, tubes, water, snacks, etc.
What happens if I go off the recommended route? Nothing at all, just carry on. The routes are provided as a gauge of the distance and elevation required.
How does the relay work? Typically for the 4P - each racer rides 30-40k segment of the course. 2P - each racer rides ~60k. To submit your relay entry, all team members must complete at least 30k and 750m. This means you can all ride at once on the same 30k, 750m route.
When will jerseys arrive? We are aiming to get jerseys to you by June 19th.
What size jersey do I want? Jerseys come in both men's and women's cuts. Check out the sizing chart here. I'm 6', 155 lb. and the large fits well but loose on me.
What if I break down/bonk/crash/get lost/etc.? You have over two weeks to complete your ride. Attempt as many times as needed to conquer the crown!
What should I hashtag when I'm bragging about my training regimen, route creation, and race-day kit? Please tag us with @themerrittcrown on Instagram and Facebook. We'd love to see y'all decked out in your jerseys. #👑community #mtbroyalty Our sponsors also love getting tagged. Show some love if you're stoked on the recommended routes, jerseys or prizes up for grabs.