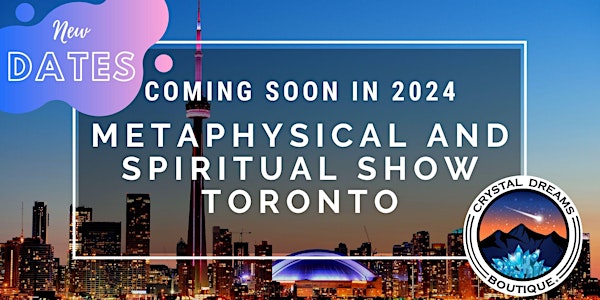 The Metaphysical & Spiritual Show of Toronto
This is a FREE public event that welcomes the whole community of Toronto. Organized & sponsored by Crystal Dreams!
Date and time
Sat, Mar 9, 2024 10:00 AM - Sun, Mar 10, 2024 8:00 PM EST
Location
Exhibition Place Heritage Court 19 Nunavut Rd Toronto, ON M6K 3C3 Canada
About this event
The Metaphysical and Spiritual Show of TorontoThe annual Metaphysical festival of Toronto welcomes everyone who is interested in learning more about spirituality and the metaphysical to attend to their 16th edition in March 2024, from 10 am to 8 pm at the Exhibition Place Heritage Court Hall in Toronto, Ontario. This trade show will have more than 120 exhibitors. This is one of the most awaited trade shows in Toronto and it's completely FREE.
The Metaphysical and Spiritual Show of Toronto is one of the largest spiritual gatherings in the city with an attendance of over 15, 000 visitors. The fair will be held at the prestigious Exhibition Place located in Toronto, Ontario, which has easy access to public transportation and the high way. Entrance is completely FREE. Here is a brief summary of the important information regarding this event:
Entrance:Entrance is completely FREE. There is no admission fee and no need to reserve in advance. Simply show up with your friends and family! Everyone is welcomed to attend this unique fair.
Location:
Exhibition Place Heritage Court19 Nunavut Rd, Toronto, ON M6K 3C3
Date & Time:
March 2024  From 10 AM to 8 PM
This is a FREE public event that welcomes all the community of Toronto. In this trade show you will find products, services, and information regarding gemstones, crystals, holistic health expos, essential oils, souvenirs, jewelry, arts & crafts, spiritual services, natural supplements, naturopaths, homeopaths, incenses, psychic readers, yoga centres, meditation classes, body mind spirit, natural healing, shamans, Spiritual healers, Nutrition, Organics, Green Lifestyles, Wellness, Ufology, precious stones, sustainability, self reliance, conscious living, metaphysics, alternative medicine, faeries, jewelry, book writers, paranormal investigators, whole foods, gluten-free Lifestyles, gem dealers, handmade arts & crafts, life coaches, tarot readers, sculptures, furniture, lamps, wood crafts, paintings, spirituality, inspiration, medicinal plants & much more.
For More Information Contact Us:
Info@CrystalDreamsWorld.com
This spiritual fair in Toronto is organized & sponsored by your international crystal store, Crystal Dreams, based in Montreal, Canada. This unique trade show that happens only twice a year. It is one of the largest gatherings of the spiritual & esoteric community of Toronto.
Feel free to join the events main page on Facebook by clicking HERE. If you wish to be an exhibitor at this spiritual show in Toronto please contact us.NOTE: If you would like to be an exhibitor at the Metaphysical and Spiritual Show of Toronto please send us an e-mail with a brief description of your products/services at: info@CrystalDreamsWorld.com
About the organizer
Crystal Dreams is an international crystal store based in Montreal, Canada that operates at a global level and specialized in the distribution of crystals, gemstones, minerals & other alternative medicine related products. Crystal Dreams plays a major role as a facilitator by creating and organizing events all accross Canada in order to bring the spiritual community together.

www.CrystalDreams.ca