Actions and Detail Panel
The Mom Show Yoga Flow
Sat, 29 April 2017, 10:30 AM – 12:00 PM ADT
Description
The Mom Show Yoga Flow
Amy Grace and Lindsay Umlah are teaming up to offer an empowering morning workshop experience you won't soon forget.
Amy will be performing The Mom Show or The Most Boring Show Ever, her empowering and comedic take and journey through new motherhood from prenatal to postpartum. Using yoga as a platform, along with comedic honesty, Amy performs the journey of a woman becoming mother in todays society and aims to empower by delving into self care, self worth and what it means to see oneself as whole and worthy. The Mom Show isn't just for moms. It's for anyone wanting to take back their worth and have a laugh while doing it.
Lindsay will follow up Amy's performance with an enriching and inspiring yoga flow helping you deeply connect to the message of empowerment and worth strung throughout Amy's performance. We'll flow, laugh, and reconnect to our power by moving our bodies with breath. All bodies and levels are welcome, as this is an opportunity to dive in, explore and reconnect to your power and strength by showing up with curiosity and openness.
This workshop is perfect whether you're a new mom, expecting mama, or someone who enjoys a good laugh and an opportunity to be empowered and inspired by the fierceness that is woman. You can rest assured that whatever stage of life you're in, if you show up, you will leave feeling empowered, inspired and a little more connected to your fierce and fabulous self.
We look forward to seeing you on your mat,
xx Lindsay and Amy
About Us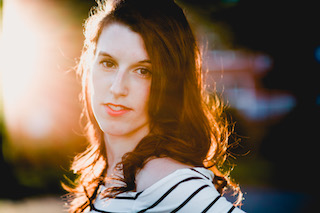 Amy Grace is a writer, producer and performer who is passionate about empowering women through collaborations and various art forms. In the past year Amy wrote and starred in "The Mom Show or the Most Boring Show Ever" at The Atlantic Fringe Festival. Since 2013 she has been running a monthly collective meet up for creative women in the Halifax area "The Creatives". She trained at Neptune Theatre's Pre Professional Training Program, is married to her high school sweet heart, Jeremy Lai, an engineer and her online/all things technology right-hand. Together they have a toddler and live in Bedford.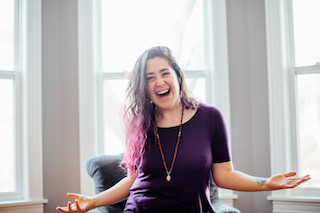 Lindsay is a spitfire, freedom junkie, and believer in all things magic. She houses a massive passion for women's empowerment and self love, and lives to see individuals discover their passions and step fully into their power. She uses her expertise as a Holistic Nutritional Consultant, Business Mentor and Yoga Teacher to ignite and inspire those she works with to deepen their relationship to self, and create space in their lives and bodies for what ignites their soul. Working with Lindsay is always bound to leave you inspired and vibrating with a new self confidence and love for life and all it's possibilities.