Description
Are you looking for a unique and thoughtful gift this holiday season? A gift that is both delicious and also gives back to the local economy? With the holiday season right around the corner, we thought it was time to fill you in on the gift that covers all the basis: The Mustard Seed Holiday Bag.
The Mustard Seed Holiday Bag has been carefully curated to feature products from your favourite local producers. It's the perfect gift for family members, friends, business associates, clients or colleagues – anyone who appreciates local food and the delicious bounty that we can source right here in our Hamilton region. The best of the best all packaged together during the most wonderful time of the year, how could you argue with that? Word on the street is people are stocking up on bags for themselves, not just for gifts for their loved ones.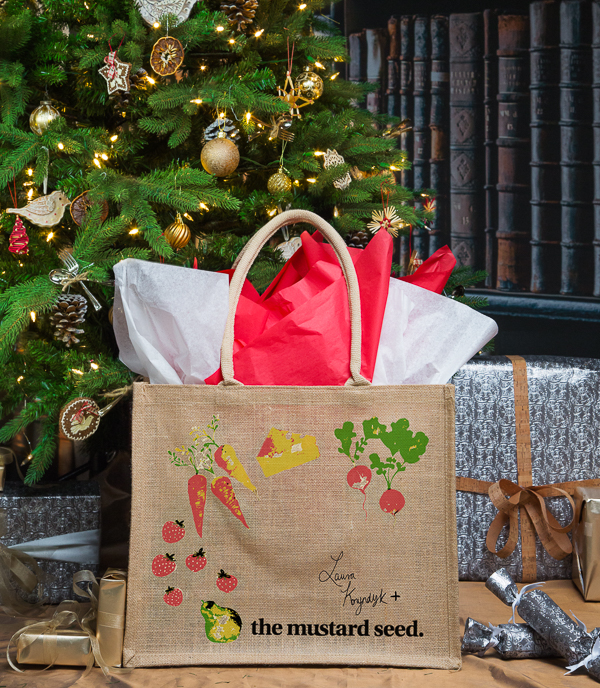 The products inside the holiday bag aren't the only local advantage. The aesthetically intriguing packaging in which the products are presented was designed and created by local artist Laura Konyndyk. The bag also includes a full colour version of the piece that inspired the artwork, which you can frame, hang on the fridge, or turn into a greeting card. Does it get more Hamiltonian than this? The reusable bag is ready to be placed under the Christmas tree upon pickup, saving you the time and money usually spent on wrapping and preparing gifts.
We have chosen a wide spectrum of local products that will make your mouth water! All holiday bags contain the following items:
Have you found a reason to not purchase the holiday bag? Nope? Me neither. See you all at the Mustard Seed!
Numbers are limited, so get your order in to ensure you don't miss out. Holiday gift bags are $49.99 until November 30 and $54.99 starting December 1st. You can either order online (through this page - see tickets below; a small transaction fee applies) or purchase at The Mustard Seed (460 York Blvd in Hamilton).

Holiday Bags are currently available for pick up at The Mustard Seed (460 York Blvd in Hamilton) till December 24th, during store hours.

If you've got questions, please email us at info@mustardseed.coop.