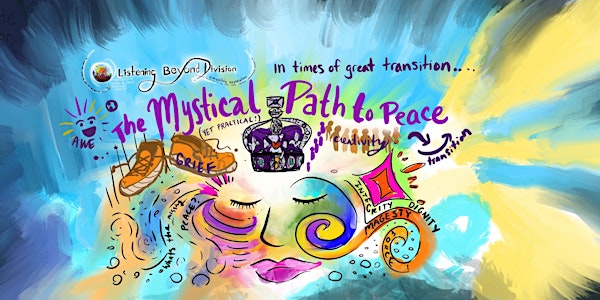 The Mystical Path to Peace
In this time of grieving, transition, and great potential for the birth of the new, we'll explore a mystical path to peace.
About this event
The Spirit of Canada Dialogue Project holds a space once a month called 'Listening Beyond Division'. We explore difficult topics in the Canadian context, with open hearts. We are curious about what breaks our hearts and what breaks us open to healing and to expanded possibilities.
:::
This is a time of grieving, transition, and great potential for the birth of the new.
Exploring a mystical path to peace, we will use the four-fold path of Creation Spirituality as an invitation to consciously take part in the cycle of life: being filled with awe and wonder, feeling our pain and losses, exuding creativity, and persisting as justice makers.
The Spirit of Canada Dialogue Project invites you to this experiential workshop.
:::
The passing of the Queen Elizabeth II is a momentous occasion of grieving and transition. The world mourns. A great dignity and majesty is present and change is everywhere.
We are reminded of the ubiquity and reach of the monarchy as it breathes its transitioning breath, even as modern democracy is straining under the tensions of global issues that challenge it to evolve into our new forms of governance.
Pope Francis recently visited Canada to apologize and ask for forgiveness for the pain and suffering to families and communities caused by the loss of the lives of so many indigenous children unearthed at residential schools. This important milestone is one of many we see visibly changing in the crumbling of dominating ways of governance that use control, colonialism, brutish bullying etc.
Covid, our human family's Great Pause is giving rise to this moment of new uncharted potential. We are here together, at this new pinnacle that holds luminous hope and possibilities to fuel the design of a dignified world that thrives for all life.
The Spirit of Canada Dialogues Project feels inspired to offer a mystical process that takes us through the grieving and transitioning process using Matthew Fox's cycle of life, "The Four Path's of Creation Spirituality."
:::
Please join us:
Date: September 22nd 2022
Time: 3:00pm EDT
Place: Meshworking Room in Peace Week
https://us06web.zoom.us/j/91087559939
:::
To participate more fully in the gifts and wonder of Peace Week 2022, you can see the events and register here: Peace Week 2022.
Register here on EventBrite to receive email reminders.
Register here on FB.
We can't wait to create more beauty with you!
With open hearts,
Spirit of Canada Dialogues Project Core team.