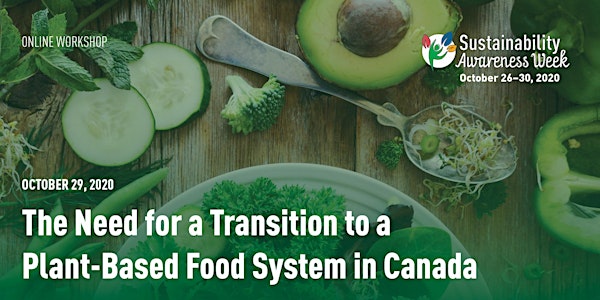 The Need for a Transition to a Plant-Based Food System in Canada
Hear from a panel of academics and policy makers on the need (and opportunities) for transitioning to a plant-based food system.
About this event
For the sake of Canadians' health, environmental commitments, and desire to avoid inflicting unnecessary suffering and death on animals, is it necessary for Canada to transition to a plant-based food system?
Join this workshop to engage with a distinguished panel of academics and policymakers. Discuss the benefits of such a transition, how it might work, and how various stakeholders can make the most of the opportunities provided by a transition to a plant-based food system in Canada.
Moderated by Howard Nye, an associate professor in the Department of Philosophy at the University of Alberta working primarily in the area of normative ethics, practical ethics, and metaethics.
Sue Donaldson is co-convenor of the Animals in Philosophy, Politics, Law and Ethics (APPLE) research group at Queen's University, Kingston. She is the co-author of Zoopolis: A Political Theory of Animal Rights .
Andrew Fenton is an associate professor in the Philosophy Department at Dalhousie University. He is the co-author of Chimpanzee Rights: The Philosophers' Brief (2019) and Neuroethics and Nonhuman Animals (2020).
Will Kymlicka is the Canada Research Chair in Political Philosophy at Queen's University, where he has taught since 1998. He is the award-winning author of eight books and over 200 articles, including Contemporary Political Philosophy (1990; second edition 2002), Multicultural Citizenship (1995), which was awarded the Macpherson Prize by the Canadian Political Science Association, and Zoopolis: A Political Theory of Animal Rights (2011).
Jordan Reichert is deputy leader of the Animal Protection Party of Canada and the West Coast Campaign Officer for the Animal Alliance of Canada. He has run for office in his hometown of Victoria, B.C. with a platform that puts the needs of people, animals and the environment first.
Vasile Stanescu is an associate professor and director of the program in Speech and Debate at Mercer University. He is co-editor of the Critical Animal Studies book series published by Brill | Rodopi.
Tony Weis is an Associate Professor in Geography at Western University. He is the author of The Ecological Hoofprint: The Global Burden of Industrial Livestock (2013), and co-editor of Critical Perspectives on Food Sovereignty (2015). His research is broadly located in the field of political ecology, with a focus on agriculture and food systems.