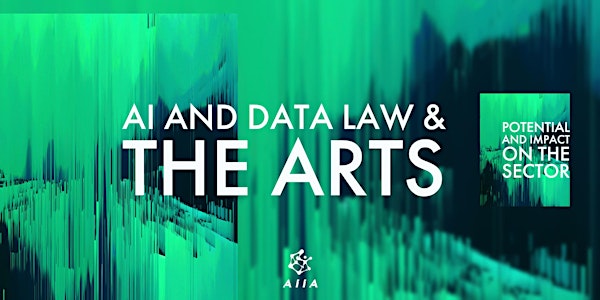 The new AI and Data Law & the Arts: Opportunities and Responsibilities
What do curators, artists and cultural organisations need to know about Bill C-26, the new AI and Data Act?
About this event
The collection of personal data without consent is a permitted exception for artistic purposes in Bill C-27, which includes the Consumer Data Protection Act and the Artificial Intelligence and Data Act. This one-day workshop provides an understanding of the potential of this exception for the arts sector and the significant legal liability it entails.
Workshop program details and information about your host
The proposed Artificial Intelligence and Data Act (AIDA), Bill C-27, provides a new exception to privacy protection opening the door for the collection of personal data without consent for artistic or literary purposes. This presents creative and business opportunities for te arts sector, but also a great social and legal responsibility for artists, curators and cultural organisations. This workshop explores definitions of "artistic purposes" and considers different scenarios in the use of citizens' personal data, including who can access and monetise sensitive, sovereign data. Using concrete case studies, participants will have the opportunity to discern the opportunities and legal implications of the "artistic purpose" exception when applying the AI and Data Act.
The preamble to the Act emphasises that "the protection of the privacy rights of individuals with respect to their personal information is essential to their autonomy and dignity and to the full enjoyment of fundamental rights and freedoms in Canada. Therefore, the general rule is that consent is required to collect, use or disclose personal data". However, there are exceptions to this rule, and section 38 of AIDA provides that, where the collection is solely for artistic or literary purposes, an organisation may collect an individual's personal information without the individual's knowledge or consent.
Given the sexist and colonial history of the definition of art, and given its significant socio-economic impact, the use of this exception should follow clear guidelines. Indeed, the definition of what is, or is not, art, and who is, or is not, an artist, results in some having access to funding and recognition, others not. If the bill is passed, it will be the courts, presumably after consultation with recognised arts institutions, that will be the judges of what constitutes "artistic use" of citizens' personal data. It is therefore imperative to think ahead and define lucidly in which situations a curator, artist or organisation will be able to use this exception for artistic, cultural and museum productions. In the first part of the workshop, participants will be invited to discuss the definition of "artistic purposes". 
This one-day workshop provides participants with a better understanding of the mechanisms and various implications of the AI and Data Law Bill, as well as a strategic anticipation of new areas of practice and organisational governance planning. Our workshop will allow participants to look at concrete cases, understand the legal and social responsibility related to this exception and explore new business models adapted to a rapidly growing digital economy. This meeting will also be an opportunity to discuss the conditions under which artists, museums and art centres will be granted access to citizens' personal data. 
Here are examples of the case studies and questions that will be discussed: 
1) Non-fungal tokens (NFTs) are recognised by some as both a form of digital art and as a token with an assigned monetary value.
Is the creation of algorithmic or generative NFTs that use personal data from non-consenting communities a new form of ethical and legal income for artists?
What will be the legal and social responsibility of curators, arts professionals and arts and culture organisations in relation to the impact of the use, monetisation, of citizens' personal data? 
2) Automated image-generating language models, such as Dall-E, require the use of increasingly large language models. Even though these platforms warn their users that the images created carry racist or sexist biases, there is nothing to prevent a user from using these images. Furthermore, it is technically feasible to imagine a wall projection with a visualisation of the political tensions of the day, potentially influencing the social climate.
The impact of social networks on political movements and social polarisation is the subject of several studies, but what about the use of personal data obtained without consent for artistic purposes?
How should a call for projects be written by a museum curator who has obtained permission to collect personal information about citizens in order to create a series of images with it?
Can a virtual space like META, under the veil of a visual art exhibition, a comedy show, or a documentary series, be considered an "artistic purpose" and justify access to citizens' personal data? 
You can submit questions in advance by adding them here: https://forms.gle/Rz8ntMyFo4D1rEWv8
Schedule
September 15th 2022, hybrid format *details to come
Morning 9:15 à 12:15 Introduction to AIDA, Context and Definition of "Artistic Purpose"
Overview of the Bill and Background
Introduction of the "artistic purpose" exception
Practical exercise: putting your project together
Feedback on the issues raised during the exercise
Presentation of frameworks and best practices in inter-art practices and algorithmic art
Questions and discussions
Afternoon 1:30 à 4:30 Navigating Between Opportunity and Liability: Critical Legal Considerations
*The afternoon program is currently being reviewed for recognition by the Quebec Bar as a legal training and count towards compulsory ongoing training credits. It will focus on the legal implications and mechanisms applied to project design, organisational governance planning and legal enforcement in the event of alleged prejudice. There will be a brief 7 minute recap of the morning's highlights for those who are only attending the afternoon session.
Presentation of Bill C-27
Legal considerations before and after the collection of personal data
Liability of artists, curators and organizations
Case studies on different forms of artificial intelligence and different artistic disciplines
Discussion
Your Host
Valentine Goddard is a member of the Advisory Council on AI of Canada and a United Nations expert in AI Policy and Governance. Lawyer, certified mediator and an inter-arts curator recognized by the Canada Council for the Arts, she is the founder and executive director of AI Impact Alliance. AI Impact Alliance is an independent non-profit organisation's mission is to facilitate a responsible implementation of AI, and accelerate the achievement of the 17 UN's Sustainable Development Goals. It is a founding member of the International Observatory on the Ethical and Social Impact of AI (OBVIA) and the Responsible AI Consortium (RAI). It is recognized by the Montreal Arts Council as a digital arts research organisation. Ms Goddard is the lead architect of the AI on a Social Mission Conference, a respected international conference on the ethical and social implications of AI, and the Art Impact AI Programs, positioning the arts' critical role in AI and Data governance. 
As a member of Canada's AI Advisory Council, she has contributed to the orientation of the proposed AI and Data Act. As a consultant, Ms. Goddard provides analysis of emerging regulatory frameworks on AI and data governance including anticipatory foresight of their socioeconomic implications to government and industry. As an art professional and inter-arts curator and mediator, she delivers transdisciplinary programs that bridge civic engagement and knowledge mobilisation with policy innovation for responsible AI strategies. Her work has led to the adoption of international policies that underscore the role of the arts and civil society in Digital Governance. The curatorial best practices she has proposed for AI ethics guide her own work as an artist, and since November 2021, a selection of a dozen publications and art projects from local and international artists and researchers.