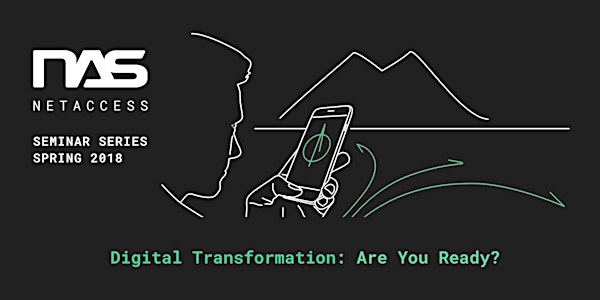 The New World of Digital Transformation: Challenges & Opportunities
When and where
Location
NetAccess Systems Inc. 21 King St. West Suite 1500 Hamilton, ON L8P 4W7 Canada
Description
The world has changed. The things that used to set companies apart such as economies of scale, distribution strength, and brand are far less critical now than they used to be. Why? Because digital technology has fundamentally changed two things: the dynamics of the markets in which business operates and the speed of change that business must now deal with to remain competitive.
This seminar series is designed to help business owners and executives, as well as IT managers, understand and navigate the world of digital transformation at the intersection of technology and business in order to succeed and thrive in their areas of expertise. Industry experts from a variety of fields will shsare their insights and expertise on this vital topic.

NetAccess President, Don McNally, and NetAccess CEO, Dan Nedoborski will launch the series with introductiony sessioin that wll lay out the key issues to discussed in the series, and highlight important resources for developing a digital stratebgy that is right for your buisness or organization.

The series schedule is listed here. Detailed event discrptions will be posted separately for each seminar as the event details are finlaized and the registration open.

HOW TO SURVIVE AND THRIVE IN A WORLD OF DITITAL TRANSFORMTAION Lunch and Learn Series hosted by NetAccess - 11:30 to 1:15*
Date*
The New World of Digital Transformation: Challenges & Opportunities
March 15
Cyber Threats in a Digital World:Is your Business Ready?
March 29
Digital Transformation: Changing the Way We Do Business
April 12
Digital Transformation by Sector: Selected Case Studies
April 26
Creating a Digital Vision and Winning Business Strategy
May 10
Looking Ahead: Winners and Losers in the New Digital Economy
May 24