The Odlum Brown FWE Gala: Pitch for the Purse Finale goes virtual!
About this Event
Join in and participate in the FWE magic by watching three of Canada's most promising women entrepreneurs pitch their business visions then VOTE LIVE to pick the Winner of the $50,000 grand prize!
YOU VOTE LIVE to decide who will win $50,000 to support their business dreams
Meet the Finalist Mentors who have supported them on this leg of their journey
Virtually gather your team, family or friends for an inspiring Finale Show
Tickets:
Individual Tickets - FREE
Please consider adding a DONATION to FWE to your registration
$100+ donations are eligible for a tax receipt
Contact lisa@fwe.ca for sponsorship opportunities
Why this event, and your Financial Support, is so important?
Since the pandemic started, FWE has helped over 5,100 women entrepreneurs - a significant increase versus past years. FWE will need your generous donations in order to maintain that mentorship and support for those women and more.
The Odlum Brown FWE Gala: Pitch for the Purse Finale is our annual fundraiser that enables us to continue to serve Canadian women entrepreneurs during this time and to leave no woman behind.
$1,500 provides one woman entrepreneur with one year of critical education, mentorship and resources to help realize her business goals. FWE program graduates are 3x more likely to be in business after five years than the national average.
The Fund A Need allows you to support essential mentorship and education programs.
Silent Auction contributions will go towards our fundraising goal.
What is Pitch for the Purse?
Pitch for the Purse is a national educational program that empowers women entrepreneurs with the skills and confidence to pitch their business and learn everything they need to know about accessing capital for growth. Since 2017, the 30 semi-finalists who graduated from this program have collectively raised over $20 million in financing, created 204 new jobs, and grown their annualized revenue by $67 million.
We have an all-star line-up for you to meet during our show!
Meet our amazing Finalists, Celebrity Host, Celebrity Judges, All Star Mentors and more during the show!
Our Finalists
Our exciting, edge of your seat program will see our three Finalists pitch their business vision, and then YOU VOTE live to determine who will be the winner of the $50,000 cash prize. New this year includes $5000 for the two finalists runner ups.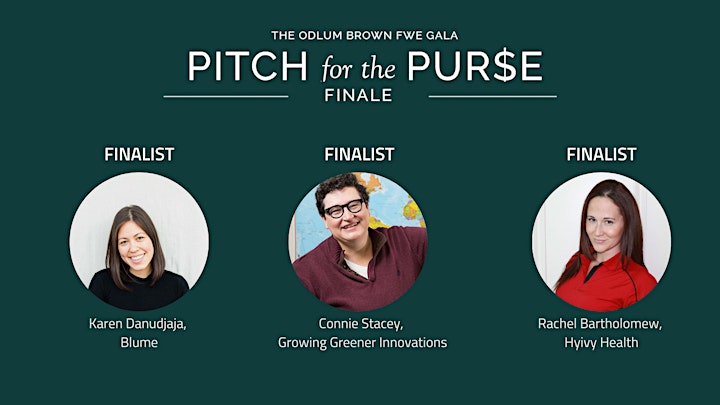 Our All-Star Mentors
We could not be more honoured to have three inspiring business leaders on board as the Finalist Mentors for this year's Pitch for the Purse Program. These three pillars of the business community, will guide and mentor our finalists to the finish line at The Odlum Brown FWE Pitch for the Purse Finale!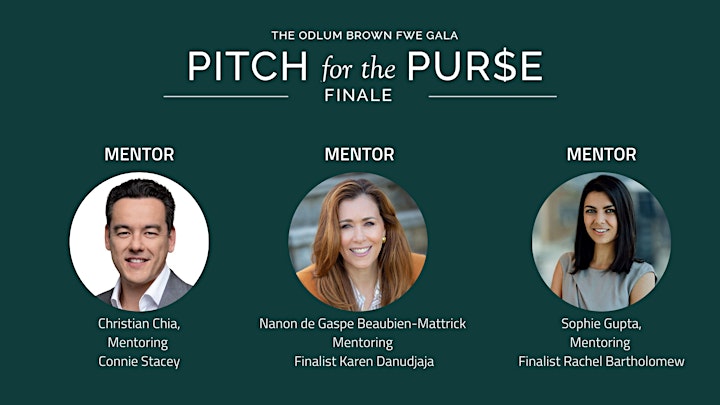 Our Celebrity Host & Judges
We are beyond thrilled to have Nathalie Molina Niño and Frank Giustra as our Celebrity Judges for The Odlum Brown FWE Gala! Frank and Nathalie have a wealth of knowledge and experience in growing companies and we can't wait to have them share their insights and hear their questions to our entrepreneurs.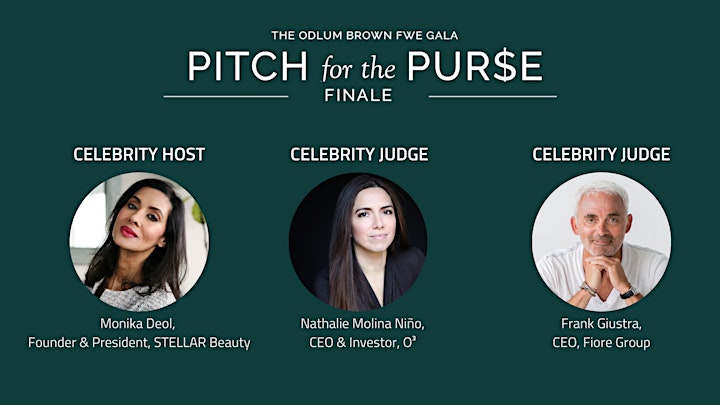 Thank You For Your Support
Thanks to our community of supporters like you, the Forum for Women Entrepreneurs has been able to keep our doors open and since the pandemic began. FWE's work is needed now more than ever to help small businesses survive and emerge more resilient.
We thank you for your continued support providing education and mentorship for women who have been disproportionately impacted by the pandemic, and for activating and sharing this event within your communities.
Christina Anthony & Lara Dauphinee,
The Odlum Brown FWE Gala Committee Co-Chairs