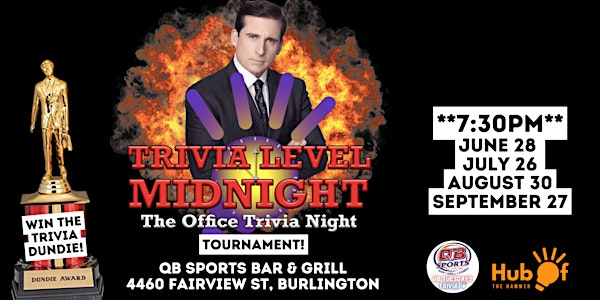 The Office Trivia Tournament: Play for the Dundie! (QBs Burlington)
"You miss 100% of the shots you don't take. - Wayne Gretzky" - Michael Scott - Hub of the Hammer
When and where
Location
QB Sports Bar Grill Games 4460 Fairview Street Burlington, ON L7L 5P9 Canada
About this event
It's a The Office Trivia tournament and it all goes down at QB Sports Bar Grill Games (4460 Fairview St)
Four nights, each focussing on two seasons of the show.
June 28 - Seasons 1 + 2
July 26 - Seasons 3 +4
August 30 - Seasons 5 + 6
September 27 - Seasons 7 + 8 + 9
The top team after the final night will have their own custom made, engraved Dundie. When you choose your team name, please attach your team captains name (ie. Team Recyclops - Kaitlyn) and use it each time so we can keep track in a sea of Scott's Tots.
Making a reservation is as easy as doing it through the event page OR by calling (905) 637-9797, it's FREE TO PLAY and we start at 7:30! Teams of up to 6. You don't need to come each time to win prizes but the top score OVERALL gets the cup.
Bring a charged smartphone, we are paperless and use Trivia Rat. Hosted by Improv Master Mickie Krish!
💡Powered by Hub of the Hammer Event Planning💡