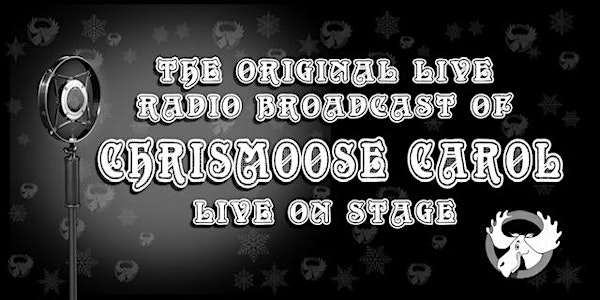 THE ORIGINAL LIVE RADIO BROADCAST OF CHRISMOOSE CAROL LIVE ON STAGE
The Moose is back with live performances of Chrismoose Carol!
When and where
Location
Loose Moose Theatre Company 1235 26 Avenue Southeast Calgary, AB T2G 1R7 Canada
Refund Policy
Contact the organizer to request a refund.
About this event
Please read COVID information below before purchasing tickets.
The Loose Moose Theatre Company first produced 'Chrismoose Carol' in 1996, and it proved to be so popular it became an annual event. Based on Charles Dickens classic story we have presented our unique version of 'Chrismoose Carol' in various ways over the years. One year it was an all puppet cast, another year it was set in Ancient Rome, and in another the Carol was told by only three people, with the audience deciding who would play Scrooge every night.
In 2020 while updating our archives we ran across an obscure silent film version from 1919 that appeared to be the inspiration for Loose Moose Theatre's first version of 'Chrismoose Carol' and all the other versions that followed. However, due to COVID restrictions we were only able to offer 'Chrismoose Carol – 1919' online. At the same time we found the silent film we also came across a radio script of Chrismoose Carol from the 1930s. This year we will be presenting that script live onstage at the Loose Moose Theatre complete with live foley and musical accompaniment.
The 'Original Live Radio Broadcast of Chrismoose Carol Live On Stage' will be performed with the vocal stylings of Loose Moose regulars Rob Mitchelson, Jennifer Lynn Bain, Ken Gardener and Dennis Cahill, who will each perform numerous roles usually associated with this story, and some which are not. Our foley artist is Michael Dargie, with musical accompaniment from Ellis Lalonde.
Shows on December 16, 17, 18 & 19 at 8 PM
Approx. 75 minutes with no intermission
This production is restricted to ages 14+
COVID 19 INFORMATION
To ensure the safety and health of our staff, volunteers, performers, and audience our venue will require that anyone entering our facility be fully vaccinated against COVID-19.
Proof of Vaccination:
QR codes are the only accepted form of vaccine proof. Individuals 18 years of age and older must also provide valid photo identification matching the vaccine record.
Face Masks
Masks must be worn at all times and may only be removed momentarily when eating or drinking while seated in the theatre. Disposable masks will be available if needed. Performers may unmask while onstage for performance only.
Other Safety Measures
We will be operating at reduced capacity (approximately 30%) and ask that patrons sit in seats assigned to them and do not move to any empty seating. We have increased the cleaning and sanitizing protocols and practices and hand sanitizer will be available throughout the venue.