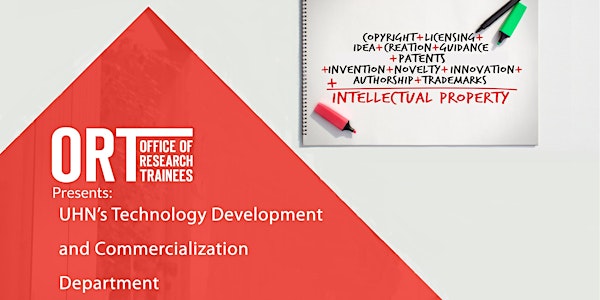 The ORT Presents: UHN's Technology Development and Commercialization Depart...
Location
Krembil Discovery Tower
135 Nassau Street
4KD503
Toronto, ON M5T 1M8
Canada
Description
Have you ever wondered about commercializing your innovations? Technology Development and Commercialization (TDC) is the team at UHN that manages the transformation of hospital research into commercial products. Join us for an introduction from one of TDC's Licensing & Commercialization Professionals, who will share an overview of everything you need to know about commercializing scientific inventions at UHN. Questions we will answer include:
Who is TDC?

What is Intellectual Property?

How can I market my invention?

Where do I go if I make a discovery?

How can I get my invention into the clinic?

How can I work together with Industry?

What is UHN's IP policy?

How can I protect my invention?

How do I launch a start-up?
You will have the opportunity to learn the answers to these questions and more. We look forward to answering your questions!
Pizza will be provided!