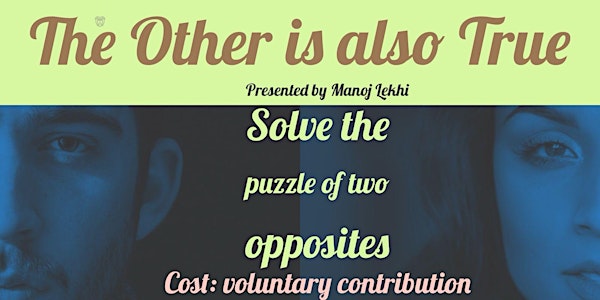 The Other Is Also True
When and where
Location
Arya Samaj Mississauga 405 Watline Avenue Mississauga, ON L4Z 1P3 Canada
Description
THE OTHER IS ALSO TRUE
Solving the Puzzle of Opposites!
While Life is a celebration it comes with its Highs and Lows!
Our entire universe exists as a seeming collection of opposites.
It can be readily seen, very visible in the natural world: day/night, male/female, past/future, life/death.
As individuals, we personally experience the effects of opposites on a daily basis. Often we get confused with the choices of Life: good or bad, right or wrong, should Ido this or should I do that?
Man is right and Woman is also right! Then which one to follow?
When confusion prevails most of us get irritated and disturbed. Everyone is right from their perspective, then which decision to take?
THINK ABOUT THIS.....
There are always two alternating aspects:
Black and White: If these words were not black and instead were white you would not see them. The white of this page allows the black Letters to appear.
Sorrow and Joy: How would you know joy if not for the sadness interspersed?
At this event, we will explore, Are "Opposites" really opposites?

Or
Are they two sides of the same thing?
The Learnings at the Scope Camp will help you too, Comprehend both sides of the spectrum.
Recognize that everything has a compliment.
Learn to go beyond paradoxes.
Understand how to make a choice when faced with two equal options.
So come to join us to unravel the puzzle of polarities in Life!
Rest in the knowledge that THE OTHER IS ALSO TRUE
About the Speaker - Manoj Lekhi
Manoj Lekhi is an author, spiritual guide and an international inspirational speaker. He specializes in the 'inside-out' approach to life which is about transforming oneself within and thereby experiencing abundance inside and out. The basis and source for all his programs is the SSY (Siddha Samadhi Yoga also known as Science of Silence Yoga) program. This is the key program designed by his spiritual master Guruji Shri Rishi Prabhakar to catapult a person into higher states of conscious living. The program addresses cleansing of the Five Layers of being (Physical, Life-Energy, Mental, Emotional and Spiritual) so that a person's natural joyousness and greatness can be expressed fully, living an ordinary life in an extraordinary way.
Note:
Workshop material will be provided.

Refreshments tea/coffee and Veg lunch will be served.

We welcome your generous donation to share in making this available to others in the future.
Contact:
Rita 647-801-5755

Manmit 416-500-5399

Ila 416-706-0814 - (Till Sept 14th)

Lal: 416-433-4517
Like us: https://www.facebook.com/RSVKcanada
Website: www.ssyyogalife.org
FAQs
What's the Refund Policy?
We are NOT CHARGING any standard fees for the event.
You are welcome to DONATE at the event corresponding to the value you get from attending it.