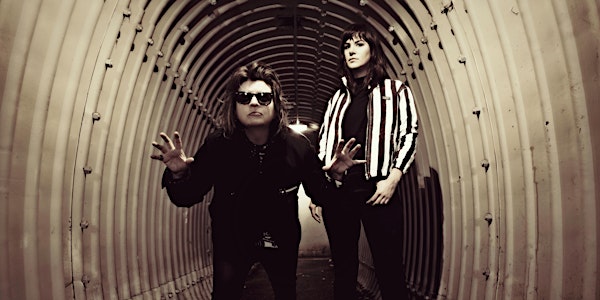 The Pack AD with very special guests Fake Shark and Hyaenas
Vancouver's own psychpop/garage-rock duo, The Pack AD are back at The Rickshaw on December 4th featuring guests Fake Shark & Hyaenas.
When and where
Location
Rickshaw Theatre 254 E. Hastings Street Vancouver, BC V6A 1P1 Canada
Performers
Headliners
More Performers
About this event
The Rickshaw presents The Pack AD
With very special guests Fake Shark and Hyaenas
Saturday, December 4th 2021
The Rickshaw Theatre
19+
Doors: 7:30pm
EARLY BIRD TICKETS
On sale 10 Wednesday, September 24th 2021 for 24 hours only. Early bird ticket holders will get access to a recording of the Pack AD's 2020 live stream at the Rickshaw the weekend before the show (7pm Friday, November 26th - Midnight Sunday, November 28th)
GENERAL SALE
Tickets on sale 10am Thursday, September 23rd 2021
The Pack AD
Destruction and melody, acid wit and bruising vocals-this is the Pack A.D. Singer/guitarist Becky Black and drummer Maya Miller have made a sound so gigantic, so fierce and raw and empowering, that it's easy to forget there are just two people behind this brilliant, carefully constructed havoc. Shredding and pounding their way through every song, the Pack A.D. swallows you whole inside their fearless Franken-blend of heavy psychpop/garage-rock. Their lyrics are wild nests, human and complex: darkly funny disclosures about depression; indictments of digital excess; grief-stricken fire bombs; sly crusades against stupidity.
The Pack AD Online
Website // Instagram // Facebook // YouTube // Bandcamp // Spotify
Fake Shark
Fake Shark is an indie-soul band from Vancouver, BC who have toured much of the world and have had music featured in an Apple Watch commercial, several MTV shows, and has enjoyed much radio success.
Fake Shark Online
Website // Instagram // Facebook // Twitter // YouTube
Hyaenas
Embodying the energy & ferocity of the animal they are named after, Hyaenas is a new Indie Rock band breaking into the Vancouver music scene. With fun, catchy hooks, their songs are written through a queer feminist lens while drawing inspiration in their sound from 80's icons The Go-Go's to modern day Indie darlings, Warpaint. Debut EP coming Summer 2022!
Hyaenas Online
Instagram // Facebook // Twitter // YouTube
Supported By FACTOR
This project has been made possible in part by the Government of Canada. Ce projet a été rendu possible en partie grâce au gouvernement du Canada.
More info: www.factor.ca
Refund Policy
No refunds - unless event is cancelled.