The Peninsula Community Foundation presents a Drive-In Movie Night: Raya & The Last Dragon at Semiahmoo Park in South Surrey on July 29th.
About this event
The Peninsula Community Foundation board of directions are hosting a private drive-in event at Semiahmoo Park on July 29th! Simply donate through Eventbrite, show up in your car, tune into our FM frequency and watch a movie under the stars!
This event is also supported by the South Surrey & White Rock Chamber of Commerce.
The movie will be Raya & The Last Dragon.
This is a BY DONATION event just for you and your family!
All donations go to Semiahmoo First Nations Youth Group to help mentor the next generation.
The gates will open at 7:30PM sharp and the movie will begin at approximately 9:00OPM. This is a ticketed event. 1 ticket is good for ONE CAR LOAD, not per person. We encourage you to acquire your tickets online in advance as we are limited to 100 cars per movie.
Social Distancing rules MUST be followed.
Fresh Air Cinema is an Outdoor Movie Company that has been hosting outdoor movie events since 2006.
A special thanks to Semiahmoo First Nation who has graciously allowed us to host drive-in movies on their property at East Beach (Semiahmoo Park) next to the Washington Avenue Grill.
SOCIAL DISTANCING POLICIES - All policies outlined reflect the guidelines provided by the Provincial Health Authority and are subject to change as social distance guidelines change.
Those not obeying the policies will be asked to leave immediately.
- Tickets are sold exclusively online.
- Cars only. No bike or walk-ins allowed.
- Guests must wear masks when outside of their vehicle.
- We strongly encourage our guests to come to the event with only those from their same household/bubble.
- We encourage guests to use washrooms before attending the event.
- There will be washrooms at the venue but please ensure that you go to the washroom by yourself unless accompanying a minor.
- One person at a time in the washroom.
- When queuing in line for the washroom, please line up a minimum of 6' (2m) apart.
- Audio will be streamed through an FM radio station, there will be no additional outside sound. This means no sitting outside the car on lawn chairs.
- The number of vehicles allowed at the venue will be limited to 75 cars. We encourage you to acquire your tickets early. If you do not have a ticket, you will not be allowed into the venue.
- If you feel ill or were outside of Canada 14 days ago or less, stay home!
- Anyone who breaks these rules, will be asked to leave immediately without refunds.
- No drugs, alcohol or smoking at the event.
- No dogs are allowed at the event.
- There will be no food or drink for sale at the event. Please bring your own.
- When arriving at the venue, please ensure you have your printed ticket in hand and be prepared to show this to the check-in agent as we will need to scan the barcode to check you in.
- If this event is cancelled for any reason, we will do our best to reschedule it but there are no refunds. Only a credit for the rescheduled show.
By acquiring a ticket, you are agreeing to the above terms and conditions.
We ask that you please please follow our rules so we can continue offering these events in the future.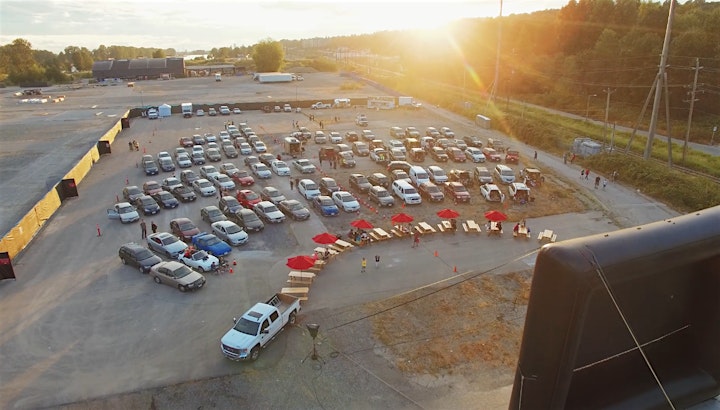 Organizer of The Peninsula Community Foundation presents Raya & The Last Dragon - Jul.29
Since 2006, Fresh Air Cinema has been Canada's premiere outdoor movie company, delivering thousands of unforgettable outdoor movie experiences to Canadians across the country.  In British Columbia alone, Fresh Air Cinema hosts over 200 outdoor movie events each year, and are the people behind the largest outdoor movie event in Canada:Evo Summer Cinema in Stanley Park.

We are sharing our joy of Cinema this year by providing physical distancing alternativies with our Fresh Air Cinema Events and our Vehicle Events! We are working closely to maintain the highest level of Covid-19 safety standards and following the current BC Health regulations at all of our events in the communites that we serve across the province.

Keep an eye out for our Fortis BC Tour across the province, as well as our vehicle events in South Surrey/ White Rock at Semihamoo Park. We look forward to seeing you at a Fresh Air Cinema event soon!