Description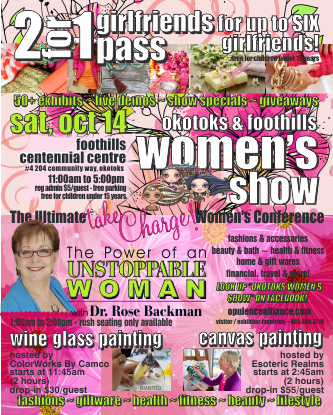 VISIT THE FOLLOWING LINK TO GET A PRINTABLE PASS:

www.opulencealliance.com/okotoks-girlfriends-gathering


Are you ready to UNLOCK YOUR EMOTIONS and MASTER EVERY ASPECT OF YOUR LIFE!?
THE POWER OF THE UNSTOPPABLE WOMAN... is the Ultimate "Take Charge" Women's Conference... ...taking place on the same day/location as the 2nd Annual Okotoks Women's Show!....
FEATURING... ...outstanding keynote --- the renowned
DR. ROSE BACKMAN!!!
CHANGE YOUR LIFE through....
** Discovering the 5 fatal flaws in business and personal relationships
** Mastering your emotions by unlocking the lies you tell yourself
** Shattering your financial glass ceiling
** Addressing chronic worry, stress, and depression
** 3 major boundaries to create a long-lasting, loving relationship
RUSH SEATING ---- plan to come early!
ABOUT DR. ROSE BACKMAN...
From Widow to Unstoppable Woman
Dr. Rose is one of Canada's most magnetic speakers on emotional and physical healing. She is a straightforward and genuine speaker with a passion for helping women find their voice.
Dr. Rose Backman has been in private practice 28 years. She received her Ph.D. in Clinical Nutrition in 1997 and then developed her specialized "Backman Emotional Technique©", that she believes is the missing link to a more immediate and effective healing.
Dr. Rose believes in teaching others to stand up for who they are and what they believe in. Using her techniques, she has helped thousands of people effortlessly release the lies they've told themselves related to addiction, depression, weight, relationship, and finances. The desire for change and willingness is all that is required to take the next step.
Dr. Rose Backman is a powerful and dynamic speaker and author who lectures and hosts workshops internationally. She has been interviewed on numerous radio and television shows and was previously a radio host on Voice America. She also hosted a local radio show in Kelowna for 6 years. Dr. Rose is currently a radio host with the Inspired Choices Network, her show is "The Power of an Unstoppable Woman" based in Toronto.
Dr. Backman's work is about empowering others to take the risk in order to manifest positive beliefs, knowing that we all deserve a fantastic life.
Please welcome from Kelowna, BC – Dr. Rose Backman.
For further details --- and information about exhibiting at the 2nd Annual Okotoks Women's Show --- CALL 403.608.3710