The Power of Awareness and Presence

Friday, 15 May 2015 from 9:00 AM to 5:00 PM (PDT)
Event Details
Are you looking for creative ways to manage interpersonal conflict, cultural differences, power struggles and chronic miscommunication at work? Are you looking for tools that you can apply immediately to help create transformation for you and your teams? Are you open to learning how horses can help you with people problems in the workplace? Are you a leader, an entrepreneur, an educator, or a coach who wants to increase your ability to impact people in a positive way? Then the Power Series was designed for you.
By taking this workshop you will be powerfully changed by
Direct and real feedback about your coaching and leadership style from the horses and other participants.

Insight and awareness into how your presence affects those around you

Understand when your beliefs, biases, and interpretations may be false

Learn a model to ground yourself and enhance awareness of self, other, and environment

Engage your intuition in play with the horses.
Coaching is increasingly seen to be a core competency for leaders who manage high performing teams. "Self-awareness is crucial to cultivating coaching presence, especially when it comes to identifying our own biases. It's through self-awareness that we begin to understand how our own thinking can limit our clients and their ability to gain the awareness they desire in order to move forward toward their desired outcomes.
For coaches and leaders to be of full service to their clients, they need to pay attention not only to their clients' ways of processing their thoughts and feelings, but also to their own. … As coaches, we need to become aware of our biases … so we can be more purely present as vessels listening for and receiving the whole of our clients."   http://coachfederation.org/blog/index.php/1784/
As prey animals, horses have naturally heightened awareness. They provide us with instant feedback about our presence, level of awareness, and effectiveness in how we are showing up and paying attention to what is happening around us.  Horses are masterful at heightening our sensitivities so that we are able to develop and expand our natural abilities as coaches, listeners, and facilitators for our clients in order to help powerfully move them forward in their lives. As interpreter of Equus – the horse's language – I provide participants with a working understanding of the language and culture of horses so that you can confidently and meaningfully engage with the horse.
The ICF describes creating awareness as "the ability to integrate and accurately evaluate multiple sources of information, and to make interpretations that help the client to gain awareness". Coaching Presence is defined as the "ability to be fully conscious and create spontaneous relationship with the client…that is open, flexible and confident…being curious, trusting your gut".
We will spend the day immersed in these competencies, engaging with the horses in simple ground exercises, as well as group and team debriefs. Each participant can expect to have a deeply personal and insightful experience with the horses. We will share experiences through direct interaction, group discussion and feedback in teams, and apply what we learn to gain a better understanding of our presence as coaches. The experiential nature of the work and the debriefing enables us to fully embody the learning and experience improvement that can be sustained beyond the workshop.
Be prepared to be surprised, moved, filled with wonder, brought to tears, and grateful for the day's invaluable experience. 
Enrolment is limited so book early!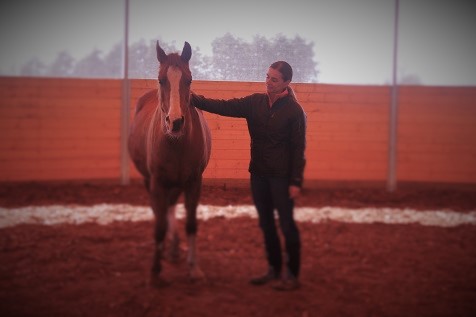 The fee for the day includes catered lunch and refreshment breaks. Please wear comfortable layered clothing suitable for the outdoors as we will spend some of the time outside with the horses. Boots or sturdy footwear is required. Non-refundable deposit: $150
We expect to be able to offer 6 Core and 3 resource CCEUs through ICF.*  

When & Where

Wisteria Acres
8648 Armstrong Rd
Langley, BC V1M 2R3
Canada

Friday, 15 May 2015 from 9:00 AM to 5:00 PM (PDT)
Add to my calendar
Organizer
Author and speaker, Evelyn McKelvie is the founder of Equine Coach, an executive coaching practice incorporating Emotional Intelligence, Conversational Intelligence, and Equine Facilitated Leadership Development. Evelyn graduated from Royal Roads University with a Graduate Certificate in Executive Coaching, and is a certified horse trainer. A seasoned professional, Evelyn's career has followed 'the road less traveled', exploring music and the performing arts, business, public and private education, as well as a career as a senior manager in information technology at the University of British Columbia.
Evelyn started to learn the culture and language of horses in the late 90's and immediately saw the powerful learning opportunities available through working and playing with horses on the ground. Horses, unable to lie, provide us with real direct feedback about your leadership and communication skills. Unimpressed by our clothes, bank accounts, or job titles, horses offer us unique and powerful feedback that is rarely available to us in the rest of our lives. Fellow mammals, their similarities and differences present us with a wealth of opportunities to investigate who we are as people, as leaders, as followers, as herdmates and as whole sentient beings.