Description
About the Talk
Do you have the power to be happy, regardless of what life throws at you?
Buddhist teachings help us to claim our happiness as our own and use all of our experiences, even the difficulties of life, to deepen our capacity for happiness.
Join us for this public talk that can change your life, presenting meditations and techniques for training the mind to accomplish all this and more!
About the Teacher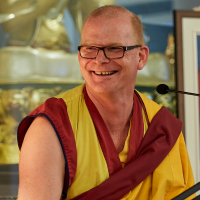 Gen Kelsang Sanden is a Canadian Buddhist monk, and the Resident Teacher of Kadampa Meditation Centre Vancouver. He has been a long time student of Geshe Kelsang Gyatso, the founder of the New Kadampa Tradition. He is well loved for his compassion, sense of humour and the clarity of his teachings.
Ticket Price
$20 Public Talk Ticket
Event Schedule
6:15-7:00pm | Welcome, and explore our book shop
7:00pm-8:30pm | Talk and guided meditation