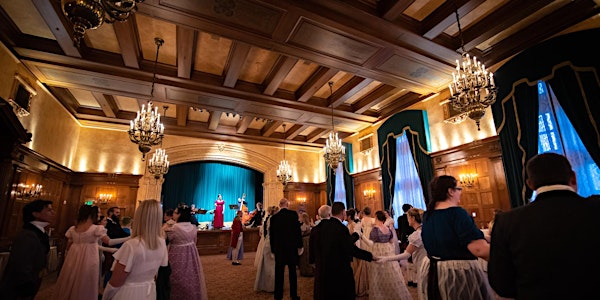 The Pride & Prejudice Ball ~ Winnipeg (2023)
Delight your senses and step into a Jane Austen novel. A unique social experience. Food, clothing, music, drink, and dancing c.1815.
Date and time
Sat, Jun 24, 2023 5:00 PM - 11:00 PM CDT
Location
The Fort Garry Hotel - 7th Floor Concert Ballroom 222 Broadway Winnipeg, MB R3C 0R3 Canada
About this event
**New for this event...a light, pre-Ball Dinner!
If you loved "BRIDGERTON", you'll love THE PRIDE & PREJUDICE BALL ~ WINNIPEG!
Imagine yourself transported to England circa 1815.  It's the world of Jane Austen, where Mr. Darcy and Miss Elizabeth Bennett are dancing by candlelight at the Netherfield Ball, where military heroes such as the Duke of Wellington have returned triumphant from the Napoleonic war, their regalia glittering, and where there is dancing to live music in a room full of charming people.  
"It's like a dream! Everyone looks so beautiful... I knew this would be fun, but it's so much more than that! I feel like myself...but in a different time and place..."
You find yourself surrounded by the cheery sight of elegant, bejewelled ladies and dashing gentlemen who are all as delightful as they are delighted to find themselves with you ...all without the use of a time machine.
"I attended initially for my wife, but now I gladly attend every event we can. The dances are a welcome challenge and the sense of community is unparalleled. It's great to get ourselves all spruced up. It's so uplifting."
This recurring event is an experience unlike any other you have imagined.  You will immerse yourself in the sights, sounds, and tastes of 1815 with beautiful, period appropriate clothing, dancing, music, drink, and food.  
Hosted by Lady Jane Productions
THE PRIDE & PREJUDICE BALL - WINNIPEG
In Winnipeg's historic "Fort Garry Hotel" 7th Floor Concert Ballroom
Dance Classes / Social Dances take place on four Sunday afternoons from 1:30 p.m. - 4:00 p.m. at HARROW UNITED CHURCH (955 Mulvey Avenue) in Winnipeg, MB. (see ticket info)
THE DINNER (5:00-6:15 pm; doors at 4:45 pm)
Enjoy a Regency era-inspired, light dinner of Regency White Soup, the Fort Garry's famous bread, Regency Greens (salad), and beautiful Beef Stew.  A Vegetarian meal of Mulligatawny Soup with a beautiful Vegetable Tart is available as an option.  
THE BALL (7:00-11:00 pm)
What to expect:
You arrive between 4:30 and 4:45 p.m. if attending dinner, or 5:45 and 6:45 p.m. if arriving in time for the Ball.  You make your way to the 7th Floor to register and mill about.  You prepare your calling card for the upcoming promenade...you choose a fictitious "historic" name (unless, of course, you have a title!). Tonight, you have selected "The Duke and Duchess of Pembina-shire."
You stroll around the beautiful Loggia, greeted by excited friends that have come to spend the evening with you.
After the ringing of the bell at 7:00 p.m., the Ballroom Doors open and the Room Promenade commences. 
Lady Jane greets you warmly, and you are announced at the entrance to the ballroom.  You take a formal stroll about the room to see and be seen. You sip a lovely punch and enjoy the immersive walk to a different time and place, accompanied by the music of the Pemberley Players chamber ensemble.
The promenade concludes and the first dance begins at around 7:30 p.m.
The dancing takes place all evening with one ~30 min interval. Each dance lasts between 5 and 12 minutes, and 2 to 5 minute breaks are taken between each dance.
You dance all evening, guided by Lady Jane through the steps and accompanied by the Pemberley Players. Free from the grip of modernity, you are at liberty to relax and enjoy the evening at your own pace.
Light refreshments are provided, and the bartending staff is on hand at the cash bar with libations.
The room is alive with laughter and light, and you are glowing with the joy of an evening well-spent.
~~~~~~~~~~~~~~~~~~~~~~~~~~~~~~~~~~~~~~~~~~~~~~~~
No partner is necessary and no dance experience required.  Many guests come solo, and many have never danced before.  A dance partner is easily acquired, as it was commonplace in this period for people to dance with different partners over the course of an evening.
Dance lessons are very strongly recommended, even for returning guests, so that you can arrive at the ball ready to dance, just like you would have done in 1815.  The dance lessons build community and are an essential part of the Ball experience.  New Ball goers are asked to attend *at least one class*, so as to not impede the enjoyment of those who have invested in learning all of the dances.
(Please read the Lesson Details below.)
English Regency Era dress (c. 1800 - 1820) is mandatory, and the use of cell phones is not permitted in the Ball Room.
Dressing for the Event:  
For Ladies, the bare minimum is a full-length gown in a soft fabric with fully covered shoulders.  An empire waist is the hallmark of the period but not mandatory.  Flat shoes only, please.  Ladies are also welcome to wear regional / cultural formal dress appropriate to the early 19th century or modern interpretations.
Gentlemen are asked to wear, at minimum, a suit (black tie) worn with Oxford style dress shoes.  A Regency-era ensemble of fall-front breeches, waistcoat, chemise, cravat, and Georgian frock coat is certainly encouraged.   Gentlemen are also welcome to wear historical military attire, or other regional cultural dress appropriate to the early 19th century. This would include traditional Scottish attire (ex. Kilt + Prince Charlie jacket), or any other formal cultural dress from the period and beyond. 
Gender fluid / bending / swapping attire is absolutely encouraged. :))))
Hosted by Lady Jane Productions www.LadyJaneProductions.caFor more information read the FAQ below or, contact Lady Jane.
FAQ:
Q:  Do I need to bring a DANCE PARTNER to the classes or to the Ball?  May I attend the lessons and Ball solo or with a friend?
A:  You can come solo or with a friend!  You do not need to come with a dance partner.  The style of dance we will do is called English Country Dance and is not the same as Ballroom Dancing.   Many people choose to attend the Ball on their own and couples of all descriptions are welcome.
Q:  What's a SOCIAL DANCE & LESSON?
A:  I like to dance, you like to dance, we ALL like to dance.  We will start off each meeting by jumping right into dances that we know to refresh our memories, then learn some new dances.  For New Ball goers, this is an opportunity to observe what you'll be doing and then jump in!  Bring a snack to share...
Q:  I've never danced before.  Are the dances difficult to learn and do?
A:  You do not need to have any kind of dance experience to join in.  Guests of all walks of life report that these dances are very accessible and easier than they thought.  If you can walk briskly and count, you can take part in these dances.  Also, there will be plenty of dancing throughout the evening, so you can always sit one out for a rest.  Seating will be provided throughout the Ballroom.
Q:  I've danced before.  I'm not sure if I need to attend classes again?
A:  That's so great!  The guests who have attended classes for all of the Balls tell me that they are so glad that they went to all the classes for multiple events.  They tell me that they didn't realize how much they would forget, and how much they enjoy getting to see the people that will ultimately be at the Ball.  It where the community is built, and confidence grows.  :)
Q:  What DANCES will we be doing? 
A:  We will be staying with a limited repertoire of dances for this Ball.  Experience has shown that the more dances are the same from one event to the next, the more familiarity, comfort, and enjoyment guests experience.  There's the wonderful feeling of... "Oh!  I love this one!"...which builds confidence and ensures enjoyment.  We will add more dances along the way.
Q:  How can I learn the dances if I can't attend the classes?
A:  It can be challenging to learn the dances without attending the classes.  LJP provides video tutorials, as well as the written out dance figures (the steps) on the LJP website.  Find some friends (you'll need 3) and try them out!
Q:  I don't have anything to wear.  How can I find an OUTFIT?
A:  You have a few options.  You can make something from a pattern or have something made for you, you can alter or repurpose an already existing garment, or you can rent an outfit from the lovely people at Harlequin Costumes (book early!).  
Q:  I want to put together my own OUTFIT for the Ball, but I don't know anything about what I need!  Where to I start?
A:  Visit www.LadyJaneProductions.ca for details on "How to Dress for a Regency Ball."  You'll find information and all kinds of resources such as pictures, patterns, fabric, clothing hacks, footwear, hairstyles, and accessories.  LJP occasionally also hosts workshops for those interested in learning more about Regency-era clothing and accessories.  Watch Facebook and the website for details. As always, ask Lady Jane for help!
Q:  I want to RENT a Regency Era ensemble.  Where do I go?
A:  Harlequin Costume is a great resource for the Ball.  They have Regency / Napoleonic / Colonial era clothing for both Men and Women.  They also have a tuxedo rental department if you'd like to wear a modern suit, and kilt rentals if you'd like to wear Scottish garments.  Historical Army and Naval uniforms are a great option for men, and can sometimes be more readily acquired than Regency era civilian dress.  Please note that Ladies are welcome to come in Gentlemen's dress, and vice versa, should they choose.  
Q:  Once I have my Regency ensemble, will I ever be able to wear it again?
A:  Yes!  Lady Jane Productions produces this Ball twice a year:  in the Fall and in the early Summer.   There are other LJP events to dress up and "Live in History" (Summer Promenade, Winter Dinner Party), so there will be plenty of occasions to wear your ensemble.
Q:  I don't have any ACCESSORIES like gloves, fans, and stockings.  Where can I get these specialty items? 
A:  LJP will connect you with the resources to acquire these items, as both are easily acquired online.  You can also look for gloves at vintage clothing stores, or in your grandmother's closet!  LJP will place an order for socks, so these will be available for purchase at the dance classes.
Q:  What kinds of SHOES should I wear?
A:  Flat shoes or shoes with less than 1" heels work best.  High heels were not worn at this time, and are not very comfortable for dancing.  For gentlemen, a dress shoe works well.  At the time, all Ball-goers would change into a dance slipper.  Wear something that is comfortable for you.
Q:  Will there be FOOD at the event?  If yes, will my dietary restrictions be considered?
A:  Yes, this event features a PRE-BALL DINNER and a separate ticket is available for this. For those attending the BALL only, there will be limited food.  Punch will be provided and hors d'ouvres will be circulated throughout the evening.  Please contact the organizer to let us know about any severe allergies (it is your responsibility to contact us).  All dietary requirements can be accommodated with adequate notice.  Additionally, please speak with the serving staff to inquire about ingredients if you have allergy concerns.
Q:  Will there be playing CARDS at the event?
A:  Yes!  There will be card tables set up in the ballroom where you can try your hand at card games including the classic Pride & Prejudice card game, WHIST!
Q:  I can't make it to the dinner before the Ball.  Is there a restaurant on site?
A:  Yes, the Palm Lounge will be available for dining all evening.  
Q:  Will there be a BAR at this event?
A:  Yes, there will be a cash bar in the Ballroom, and the Hotel Lounge is also available for Bar service on the main floor of the hotel
Q:  Is there an AGE minimum to attend?
A:  There is no formal age minimum, but we recommend that guests be at least 14 years of age, and minors must be accompanied by an adult, preferably a parent, but older siblings or adults appointed by a parent may also supervise. The Ball is not suitable for young children, though it is possible that a very keen and well-behaved 12 or 13 year old, accompanied by an attentive adult, would do very well.
Q:  I would really like to have PICTURES of the event.  Is Photography permitted?
A:  There will be a professional photographer capturing the event, and taking portrait photographs of all guests.  This service is included in the ticket price. You will be able to download these at no additional cost after the event.  Please note that the use of cell phones and cameras is not permitted in the ballroom itself, but may be used anywhere else in the hotel.  You may keep your cell phone on your person, but please do not use it in the Ballroom and ensure that it is either turned off or in airplane mode.  This is to ensure that the illusion of stepping into the past is maintained in the Ballroom.  Please note that some volunteer staff will use cell phones in the Ballroom for social media coverage.
If you have any other questions, please do not hesitate to get in touch with Lady Jane.  XO
About the organizer
Lady Jane Productions (LJP) builds community through the Arts.
We come together to enjoy shared experiences, building connections with the people in our communities. These connections help us to experience personal growth, build relationships, and have fun.  
LJP facilitates community growth by organizing Living History Events that are artistic in nature, and by promoting well-being through our intrinsic need to socialize.  Come LIVE IN HISTORY and experience the joy of community, art, and perhaps a wee bit of dress up.