Location
Sheraton Toronto Airport Hotel & Conference Centre
801 Dixon Road
Toronto, ON M9W1J5
Canada
Sales Have Ended
Registrations are closed
Unfortunately, we are fully booked due to covid restrictions. Please send us a message and we will let you know when the next available live event takes place. Thank you for your understanding.
To Inspire & Empower Realtors to Grow their Real Estate Business By Increasing their Sales & Take More Listings.
About this event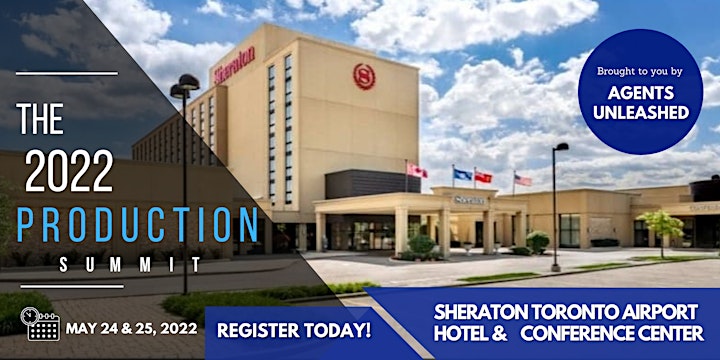 Would You Like To Increase Your Real Estate Sales and Have Freedom, Happiness & Fulfillment in Your Life?
If you answered yes, then starting on Tuesday, May 24th, 2022, you will be exposed to some of the most proven tools & strategies to increase your real estate business and finish off the year strong.
There will be twelve (12) top producing Realtors and coaches that are flying in to share their secrets of success and experiences so that you can grow your real estate business.
These top producers have sold anywhere from 40 homes to 200+ homes a year and they want to share their secrets with you!
TOPICS on What You Will Learn:
- How to Sell 30 Pre-Construction & Assignment Homes in 90 Days.
- 3 Simple Steps to Converting Online Leads into Appointments.
- How to Sell 50 Homes a Year - The Step by Step Blueprint for Success.
- How I Sold 24 Homes in My First Year Selling Real Estate.
- 5 Steps to Starting & Building a Highly Productive Real Estate Team.
- The 5 Steps to Automating Your Real Estate Business.
- How to Master Door Knocking to Take More Listings.
- Master Your Mindset to Increase Productivity.
- How to Achieve Your Goals, Dreams & Desires.
- How to Tap Into the Luxury Real Estate Market
- Top 5 Skills to Becoming a Top Producer
- Build a Business & Life You Love (Lifestyle).
And so much more!!
What You Will Walk Away With:
1. A Proven Plan & System For Your Real Estate Success.
2. Clarity & Motivation!
3. Make New Connections & Create Relationships with Positive & Like-Minded Professionals.
Who is this For?
1. Realtors Who Feel Stuck and Need a Boost of Motivation.
2. Top Producers to Network and Learn New Strategies to Go to the Next Level.
3. New Realtors Who are Looking to Find a Clear Path for Success.
EARLY BIRD SPECIAL: The First 50 Tickets are $97CAD then Prices Go Up to $300CAD Per Ticket.
PLEASE NOTE: Only 19 Tickets Available - Once they are gone...they are gone!
Times of Event:
Tuesday, May 24th, 2022 - 9:00am to 4:00pm.
Wednesday, May 25th, 2022 - 9:00am to 4:00pm.
Doors open at 8:15am on both days.
PLEASE NOTE: We Will Open Registration on Tuesday, May 24th at 7:30am.
Onsite Parking Available.
WIN FREE Gifts & Prizes Giveaway!
Staying Overnight? Hotel Registration:
Upon purchasing your ticket, you will instantly be directed to a page with all of the hotel information. You will also receive an email as well so please make sure you read your email carefully all the way through. The details are there.
To make the most out of the event, please book your hotel for the night starting of the 23rd of May. There are only 15 hotel rooms available as of April 10th, 2022, and we expect over 100 agents!
Once these rooms are gone...they are gone!
REGISTER TODAY!
No Refunds. All Sales are Final.
***Refunds Will Only Be Given for Cancellations Due to Government Closure Due to Covid-19 Only***