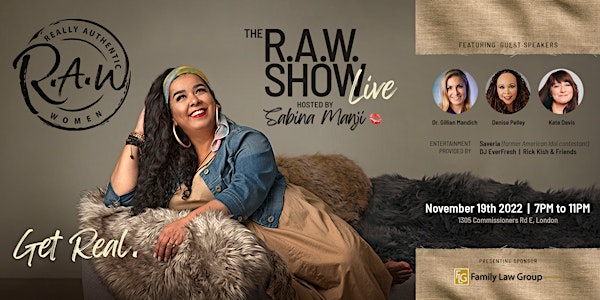 The R.A.W. Show Live Hosted by Sabina Manji
ActivityPlex London 1305 Commissioners Road East London, ON N6M OB8 | | Saturday, November 19th, 2022 | 7:00pm
When and where
Location
ActivityPlex London 1305 Commissioners Road East London, ON N6M OB8 Canada
About this event
The R.A.W. Show Live Hosted by Sabina Manji
Show: 7:00 p.m. to 11:00 p.m. (with intermission)
Mix & Mingle: 7:00pm - 7:45 pm
Due to a live recording, the show will have a prompt 8:00 p.m. start time. If attendees arrive after 8:00 p.m., admittance will only be permitted during intermission
Spring boarding off the success of The Mom & Caregiver Live Show, which included 250 in-studio audience members and over 10,000 online viewers, Sabina Manji is excited to host the inaugural live show for R.A.W. – another event where no topic is off limits! Presented by the Family Law Group, The R.A.W. Show Live will be a place for all to laugh, cry and get real together, providing an opportunity for women to be vulnerable, learn from each other and feel connected within an intimate environment.
Drop your cloak at the door and join us for a judgement-free night of inspiration. Plan to be entertained by a diverse group of speakers, musicians and artists. The dress code is whatever happens to be authentically you, but get ready to be on your feet and rejoice in the evening, filled with lots of prizes and surprises.
Sabina Manji is known for her infectious energy, big heart and making others feel valued and of course for her signature lipstick. As the Publisher & Editor in Chief for The Mom & Caregiver Magazine, Sabina set forth to establish a community and movement towards embracing authenticity, where in R.A.W. was created. R.A.W. provides a necessary safe space for women to connect and share their stories, through an online community as well as in-person events.
Dr. Gillian Mandich is an award-winning, internationally recognized happiness researcher, speaker, educator and author. With her practical, evidence-based approach, she's a scientist on a mission to help people live their happiest life. While Dr. Gillian knows that there is no secret to happiness, she delivers valuable insights into the science behind it.
Denise Pelley is a musician who has performed with many great artists, including acclaimed trombonist Ray Anderson, the Gospel/Blues legend Jackie Richardson and Flamenco guitarist Jesse Cook. She has also opened for Aretha Franklin at the John Labatt Centre, now Budweiser Gardens, and has enjoyed an acting career with The Grand Theatre.
Kate Davis is a speaker, writer, mother, comedian and actress with the unique ability to find humour in any situation and diffuse stress. Theatrically trained in England, Kate returned to Canada for a successful run on the Canadian stage. She is a 12-time nominee at the Canadian Comedy Awards, is the star of her own hour-long special on CTV Comedy Channel and has opened for Barbara Walters and Bill Clinton during his presidency.
Entertainment will be provided by DJ Everfresh, a third-generation DJ from London; Saveria, former American Idol Contestant who is also a Canadian singer-songwriter known for her hit single, Down to the Roots; along with Rick Kish & Friends, a group of exceptional musicians performing jazz standards.
With an energetic live studio audience, the event will also feature over $10,000 in prizes which all ticket purchasers will have a chance to win, and an exciting announcement for male audience members. Gourmet popcorn and candy will be available for purchase, and the show will have a cash-only bar on site. Proceeds from the sales will be going to 519Pursuit and Anova.
Tickets
Regular General Admission: $100.00
VIP: $200.00
VIP Includes
VIP seating and a custom stoneware pottery R.A.W. mug. Purchasers of the VIP Ticket & Tumbler Package will also be eligible for a 1 in 200 chance at the grand prize! Provided by Craft Farmacy, Chef Andrew Wolwowicz will cook, serve and clean for you during a private, multi-course dinner with wine pairings provided by Mellecey Wine Group, for the winner, and 7 of their guests, to be accompanied by Guest Speaker Denise Pelley and Host Sabina Manji. Guests will have the ability to interact with Denise and Sabina during the evening, all in the comfort of the winners' home, while enjoying Denise's vocal talents.