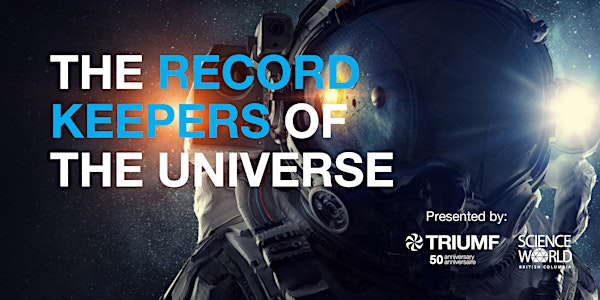 The Record Keepers of the Universe with Monika Stachura
When and where
Location
Science World at TELUS World of Science 1455 Quebec Street Vancouver, BC V6A 3Z7 Canada
Description
Doors open at 6:30 PM
Lecture begins at 7:00 PM
Q&A to follow
The Record Keepers of the Universe
In our last Unveiling the Universe lecture, we learned that nearly all earthly elements heavier than helium were born in stars. Everything from the oxygen in ou­r air, the carbon in plants around us, the sodium and chlorine in our table salt – each originated within the fiery core of a far-off star.
As humans, we ourselves are a diverse mélange of stardust: a fragile composition of oxygen, carbon, hydrogen, nitrogen, calcium, phosphorus, and other elements that hang in an improbable but finely tuned balance. What if we could use our growing knowledge of these elements, born during the life and death of stars, to better understand how our bodies function, and why we get sick? How could we apply that knowledge to solve problems in our bodies?
Join TRIUMF research scientist Dr. Monika Stachura and explore the human side of star-stuff, journeying from the birth of elements forged in stars to their current destination inside our remarkable yet mysterious bodies. Delve into the unanswered questions and possibilities that swirl around these intriguing substances and learn about TRIUMF's role in producing, studying, and applying rare isotopes the likes of which are manufactured in stars. Discover how our Earth and the 7.6 billion people who exist here are living memories of that same star-stuff.
This lecture is the latest installment of TRIUMF's 50th Anniversary Unveiling the Universe Lecture Series
Discover TRIUMF - past, present, and future: www.TRIUMF50.com
Subscribe for updates about Unveiling the Universe and other TRIUMF events
---
FAQs
Do I need to bring a paper ticket?
Please bring your e-ticket on your phone or a printed copy of your ticket for a faster check-in.
What if I registered but can no longer go?
We're sorry you cannot make it! Please cancel your free registration before the event. We always sell out quickly so this gives others a chance to reserve your tickets and allows us to better anticipate the amount of guests expected.

Will I get a seat if I just show up without registering?
We cannot promise a seat for walk-ins. However, at previous events we were able to seat walk-ins. If you are in the area, feel free to stop by!

Why is it first come, first serve? Why can't we reserve seating?
Science World does not have numbered seating therefore the first to show up will be seated in the theatre.