The Red Barn Folk Festival 2021 - Day 2 - Jason Collett w/Kennedy Road
About this event
The Red Barn Folk Festival (RBFF) is a small festival with big dreams. Nestled in the heart of Prince Edward County at one the regions most stunning venues (www.the Eddie.ca) is a new folk fest that hopes to bring the joy and love back to live music. The three day festival features Matthew Barber w/ Norris and Jones on July 30th, Jason Collett w/ Kennedy Road on July 31st and Justin Rutledge w/ The Sophiasburgh All-Stars on Aug 1st. * Tickets are sold each night separately.
Born out of the necessity to bring a unique, but at the same time traditional folk fest to the area, creators Bonnie and Chris wanted to highlight the best in Canadian indie Folk Music as well as give some love to the local music scene.
The RBFF is coming at a time where live music is desperately needed. In whatever capacity, live music must live on and folk music has always been at the start of every movement.
The festival is also taking advantage of some of the longest nights of the year to enjoy live music under stars, or if the world allows, in our amazing Barn.
We hope to see you there in person! To raise a glass to the future and to celebrate the best in live music.
THE WEEKEND LINE UP:
** See details below for the ticket night you selected!
Friday Night Show:
** Matthew Barber:
2 time Juno Award nominee Matthew Barber has crafted 8 albums that range from mid 90's inspired indie rock to folk anthems reminiscent of Laurel Canyon in the 70's. Matthew's songs have appeared in numerous TV shows including Heartland and Hockey Night in Canada. He's currently working on a new album and manning the board as producer for the new album from Schitt's Creek star Noah Reid.
** Norris & Jones:
Based in Prince Edward County, Norris & Jones is a dynamic acoustic duo playing classic hits, B-sides, singer-songwriter gems and Canadiana favourites spanning the 60's all the way up to the present. After being in bands and performing music for most of their lives, Trevor Norris and Stewart Jones met in 2013 and developed an instant and unique chemistry with their combined love of melody, harmonies and just really great songs. Their sets include music from bands/artists like The Beatles, Neil Young, The Rolling Stones, Wilco, U2, Travelling Wilburys, The Tragically Hip, James, 5440, Skydiggers, Joel Plaskett and many others.
Saturday Night Show:
** Jason Collett:
Jason Collett has worn many hats over a story-filled career now spanning twenty years. He sprang from the close-knit movement-defining Toronto collective Broken Social Scene, earning success in his own right as an indie rock troubadour with a warm and poetic tone. Now, Jason Collett's career-spanning Best Of album will be released March 19 on his lifelong label Arts & Crafts. The thirteen song collection crystalizes moments from an ever-changing era, fusing vital threads that connect us to our musical family.
Jason Collett appears every few years with a new songbook of sharp-witted musical commentary, each with a unique sonic tint. His music continues the tradition of everlasting artists like Nick Lowe, Neil Young, Kris Kristofferson, and Tom Petty, a treasured scribe of our place and our time. A member of the Arts & Crafts label from start to present, Jason Collett's Best Of is a document of a true artist, endemic to our creative community.
** Kennedy Road:
Kennedy Road is a Toronto-based Americana duo, comprised of Sheila Carabine and Brian MacMillan. He's the tall one. Their seamless vocal blend and electric, often hilarious on-stage chemistry is perfectly matched by their intense and poignant songs.
Sheila comes by collaboration honestly, having spent the last 16 years in the Juno-nominated folk duo Dala. Brian is a much beloved singer-songwriter and multi-instrumentalist, who has released three solo albums. He has performed with Barenaked Ladies, Wailin' Jennys, Garth Hudson, John McDermott and Lowest Of The Low.
Kennedy Road's debut album "A Little Fight Left Yet" was released in March of 2020, and garnered them a Canadian Folk Music Award Nomination for "Vocal Group Of The Year". The album features 11 original songs, including "The Heart Will Buzz", "Oh Darlin' Don't You Know", "Job Song" and "Time".
As fresh as they are familiar, the songs on this album capture Kennedy Road's one of a kind connection and their deep musical roots. With velvety vocals and dreamy guitars, "A Little Fight Left" conjures sorrow and humour, grit and grace. This is music from the heart, for the heart.
Sunday Night Show:
** Justin Rutledge: Juno Award winning singer songwriter Justin Rutledge recently released "Islands" his new studio albums that features reimagined versions from his expansive catalogue. A gifted storyteller, Justin has collaborated with Michael Ondaatje, members of the Tragically Hip, and Mary Margaret O'Hara.
** The Sophiasburgh All-Stars:
With a shared pedigree that includes national and international touring, critically acclaimed albums plus shared stages and projects with a constellation of household names (like the Tragically Hip, Garth Hudson, Tom Wilson, Miss Emily, Barenaked Ladies, David Wilcox and The Ramones) The Sophiasburgh All Stars are a well-loved local musical collective, coming together to play sweet jammy roots, country and whatever suits their fancy.
Art Woods - drums, percussion
Ben Vandergaast - keyboards, guitar, vocals
Brian MacMillan - guitars, vocals
Jim Hardy - bass , lap steel
Mike Farrell - lead vocals, guitar
Bonnie @countryroadevents / Chris @djloaneranger and The Eddie @eddiepec
RBFF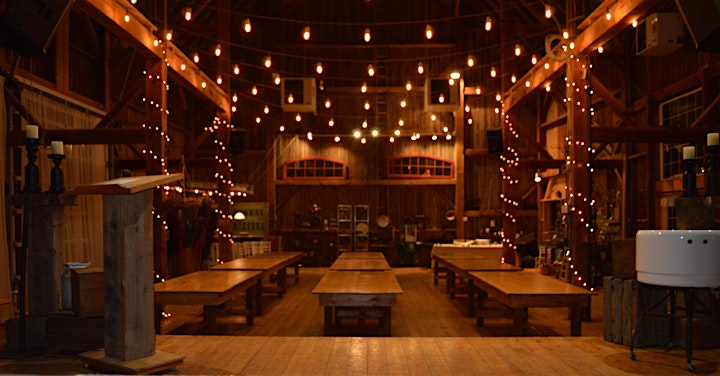 Organizer of The Red Barn Folk Festival - Jason Collett w/Kennedy Road