Join us on December 2nd for an opportunity to hear from Health Canada about the regulatory process specifically where it affects vaping.
About this event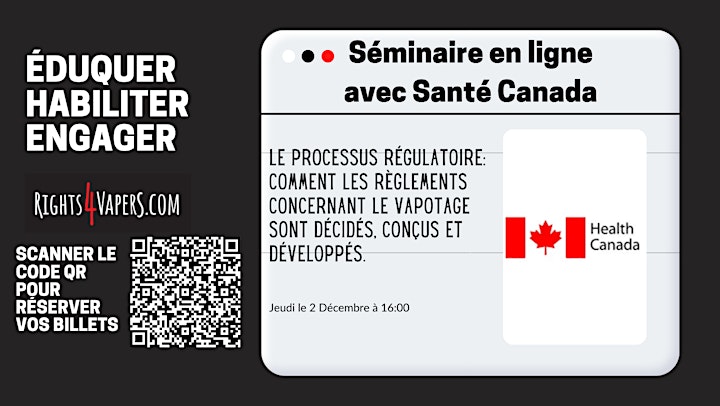 Since TVPA, we have seen a number of regulations come forth to make vaping less accessible to consumers. The process of developing these regulations seems foreign to many of us. That is why we have asked Health Canada to participate in this webinar to help explain the process and answers some of your questions as consumers.
You will receive a link to the webinar closer to the date to complete registration
Depuis la TVPA, nous avons été témoins de plusieurs nouvelles règlementations qui ont rendus le vapotage moins accessibles. Le processus liés au développement de ces règlements sont inconnus par la plupart d'entre nous. C'est pourquoi nous avons demandé à Santé Canada de participer à ce séminaire en ligne afin d'expliquer ce processus et par le fait même répondre à quelques questions provenant de consommateurs.
Vous recevrez un lien afin de compléter votre enregistrement pour ce séminaire en ligne quelques jours avant l'événement.